News > Nation/World
TV impresario Merv Griffin dies of prostate cancer at 82
Mon., Aug. 13, 2007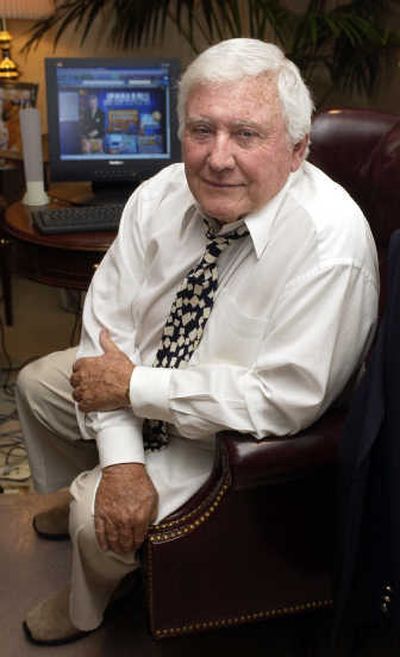 WASHINGTON – Merv Griffin, a veteran talk-show host who created an empire of entertainment businesses, most notably as producer of the long-running game shows "Wheel of Fortune" and "Jeopardy!," died of prostate cancer Sunday at Cedars-Sinai Medical Center in Los Angeles. He was 82.
Griffin was one of the most unlikely but enduring show-business figures of his generation. A serviceable baritone who once had a novelty recording hit with "I've Got a Lovely Bunch of Coconuts," he parlayed his chatty personality and astute business sense into almost unparalleled TV success. Eventually, he amassed such holdings as casinos, hotels, radio stations and thoroughbred racehorses, making him a billionaire.
After serving as emcee of talk and quiz programs, he became a national face as host of "The Merv Griffin Show," which ended its 23-year run in 1986.
Merv Griffin Enterprises – responsible for producing such shows as "Jeopardy!" (launched in 1964), "Wheel of Fortune" (1975) and the disco program "Dance Fever" (1979) – proved his most influential contribution to pop culture.
Mervyn Edward Griffin Jr., whose father was a stockbroker, was born July 6, 1925, in San Mateo, Calif., south of San Francisco.
He showed an aptitude for music as a child. An aunt taught him piano, and by age 10 he was playing the pipe organ and singing in churches.
At 19, he abandoned college studies to enter show business. He applied for a staff pianist job at San Francisco's KFRC radio station but instead was hired as a singer for his crooning ability.
Although Griffin was popular among listeners, an embarrassing problem emerged: As he was being promoted as "America's romantic new singing star," radio audiences were unaware that he was quite chunky at the time. Management told him to hide whenever a female admirer came to the studio. He quickly shed the excess weight.
He joined Freddy Martin's big band in 1948, and with that orchestra his bouncy recording of "I've Got a Lovely Bunch of Coconuts" sold 3 million copies in 1950.
While maintaining an active recording schedule, he made numerous guest appearances on radio and television. After host Jack Paar left NBC's "The Tonight Show" in 1962, Griffin served in his place for several weeks until Johnny Carson took over.
As a reward, the network gave Griffin his first self-titled chat show, a daytime program that lasted just a year.
In 1965, he accepted an offer from the Westinghouse Broadcasting Co. to host the syndicated "Merv Griffin Show."
Ever since his first talk show was scuttled, Griffin was quick to recognize that he would not always be a viable on-camera personality. This led to his increasing role as a producer of game shows.
In 1986, Griffin sold Merv Griffin Enterprises to Coca-Cola's Columbia Pictures television unit for $250 million, and he negotiated a deal to allow him to retain some profits while maintaining the title of executive producer of "Wheel of Fortune" and "Jeopardy!"
His marriage to Julann Wright Griffin ended in divorce in the mid-1970s. Survivors include a son, Anthony Griffin, and two grandchildren.
Merv Griffin, long the escort of "Green Acres" actress Eva Gabor, refrained from discussing his personal relationships in any real detail – even in two autobiographies. In the early 1990s, he was sued for $200 million by a former male employee, Brent Plott, on palimony charges, and for $11.5 million by former "Dance Fever" host Deney Terrio for sexual harassment. Both cases were dismissed.
Griffin remained wry and jovial until recent years, at times joking about the lawsuits.
He told the New York Times in 2005 that although death was inevitable, he was happy for the time being. "I've got great energy, and I've got all of my hair," he said before suggesting an appropriate tombstone epitaph: "I will not be right back after these messages."
Local journalism is essential.
Give directly to The Spokesman-Review's Northwest Passages community forums series -- which helps to offset the costs of several reporter and editor positions at the newspaper -- by using the easy options below. Gifts processed in this system are not tax deductible, but are predominately used to help meet the local financial requirements needed to receive national matching-grant funds.
Subscribe now to get breaking news alerts in your email inbox
Get breaking news delivered to your inbox as it happens.
---