News > Business
Here's the dirt : Yoke's closing smaller store
Fri., Aug. 31, 2007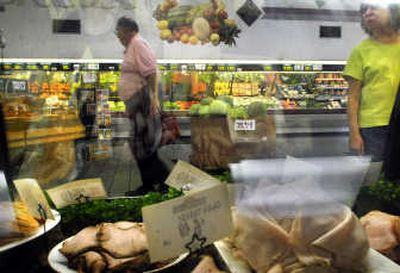 The River Ridge Yoke's is closing after more than a decade of operating in the shopping center at Wellesley Avenue and Assembly Street in northwest Spokane.
Over the years, the center housed a series of food markets, including the Ben Hogan store, which opened in 1951. The store was later sold to Rosauers before becoming River Ridge Food and Drug and finally a Yoke's Pac 'n Save.
Employees working at the store are being transferred to other supermarkets, including the Yoke's Fresh Market on Indian Trail Road, about a mile and a half away, said Denny York, senior vice president and director of store development for Yoke's Foods Inc.
York said the River Ridge store was 30,000 square feet, about half the size of the company's fresh markets. The 56,000-square-foot markets offer expanded selections and specialized departments.
Because the River Ridge Yoke's was smaller, it was never profitable and was used by the chain to train new mangers, York said, adding, "We just never could seem to figure out how to make any money out of that store."
Yoke's purchased River Ridge Food and Drug in 1994, from Tom Yoke, the son of Yoke's founder Chuck Yoke, who had operated it for four years.
When a lease came up for renewal, York said, management decided to close the location instead of making expensive upgrades.
It's unclear what type of tenant might lease the space. Spokane County records show that the shopping center is owned by BGN Properties Inc. of Seattle. An attorney for the owners declined to comment.
After the store closes, Yoke's will own 12 stores.
Dust flying at 44th and Regal
A South Hill property that was once slated for a Wal-Mart Supercenter is being graded for an unknown purpose.
Steve Haynes, a Spokane city planner, said that landowner Harlan Douglass has agreed to repair a blocked culvert that changed drainage on the site, which was once deemed to have wetlands.
The city heard from Douglass' attorney that the landowner plans to develop the property in keeping with a 1997 zoning change that allows for development of retail or office space. Haynes said the city hasn't received an application for a building permit.
The hearing examiner approved the change based on a biologist's report that said no wetlands existed on the property.
Sandwich Gardens needs a place to 'sit down'
A sandwich shop that's operated in Spokane for more than 30 years is losing its restaurant, although it will continue catering and takeout operations it offers through another location, at 2628 W. Eighth Ave.
"We won't have seating, because you need a whole new license to do that," said Pat Matthews, owner of the business.
Sandwich Gardens opened in the old River Park Square mall in 1975, serving a mix of hot and cold sandwiches that included a Hawaiian.
The shop moved into the Heart Institute of Spokane building on West Seventh Avenue 15 years ago, and is moving because the hospital terminated its lease, Matthews said.
Seventy percent of the business's sales come from delivery and catering, he said, adding that they offer 26 different homemade soups.
The new phone number for the business is (509) 625-3363.
Liberty Lake condos moving
Nearly a quarter of the condos at the former Big Trout Lodge in Liberty Lake have sold, according to Ellen Gale, sales and marketing coordinator for the complex, now known as The Villas at Big Trout.
Fifty of the 224 units have sold in just over five months, Gale said.
Local journalism is essential.
Give directly to The Spokesman-Review's Northwest Passages community forums series -- which helps to offset the costs of several reporter and editor positions at the newspaper -- by using the easy options below. Gifts processed in this system are not tax deductible, but are predominately used to help meet the local financial requirements needed to receive national matching-grant funds.
Subscribe now to get breaking news alerts in your email inbox
Get breaking news delivered to your inbox as it happens.
---