News > Voices
Midwife feels 'privileged' to be present at births
Sat., Dec. 1, 2007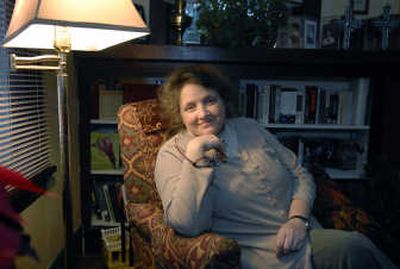 "Margaret, my mom had the baby and she's in the bathroom and we need help," said a young boy's voice early one morning this summer.
Six minutes later, Margaret Lipton showed up in her pajamas, which happen to be scrubs, medical bag in hand. She found an anxious father and son and a rather stunned mother, who was holding one very newly born girl. It's a story that would have most on the edge of their seats, but Lipton, with a soft smile across her face, says simply, "It was a gorgeous little girl, so lovely. I was so honored to be there."
Such is the life of Lipton, a midwife, more specifically a certified nurse-midwife. And while Lipton is one of about a dozen or so CNMs in the greater Spokane area, she's the only one in private practice and the only one doing home-births.
Her office is a tiny front bedroom of her South Hill home, although it hardly looks the part. There's a desk, a scale, a quilt-covered bed, a duffel bag near the closet, a wall full of books, and the warm light of a floor lamp. On closer inspection, however, one finds many of the books are medical manuals and the duffel bag is the aforementioned medical kit, which includes oxygen. "I do have stirrups," she says, gesturing to a neglected floor-level cubby, with a hint of resignation in her voice.
While some may balk at the notion of a home-birth as old-fashioned, Lipton says it's only been within the last century that doctors have moved otherwise healthy women to hospitals to deliver their babies.
"Hospitals are great; they have their place," she says, but "birth is a normal event, not a medical condition … it's what we (women) do well."
Says Cassie Lynch, whose second child Lipton delivered this past spring; "She lets you know your bodies have done this for years."
Lynch said that the hospital birth of her first child "taught me to be quiet," referring to what she perceived as the staff's over-eagerness to give her anesthesia. But with the home-birth of her second child, "it was the same exact pain but I was able to manage it, and that was because of Margaret."
Melissa Ripley, whose third child Lipton delivered this past May, and her husband opted for a home-birth simply "to try something different … something quiet, with no strangers." Home-births are "not weird or hippie," says Ripley, who qualifies the hospital births of her two older girls as a "good experience."
Rhiannon Masters says she particularly appreciated Lipton's openness and unhurried style. Appointments, attended by she and her husband, both eager for the birth of their first child, went as long as two hours. "Margaret was so welcoming," she says. "She didn't cut us short."
Masters also said she felt confident with Lipton's thorough approach and planning, which included arranging a backup physician and contingency plan should Masters have needed to be transported to the hospital for the birth.
Lipton also interviews each woman regarding her health history before taking her on as a patient to see if she is a good candidate for a home-birth. Lipton, who estimates that about 80 percent of women could give birth in the home, says she refers to the hospital women who are pregnant with twins, triplets or more), women with high blood pressure, diabetes, or have other complicating factors. Nor does she deliver babies who are born before 37 weeks.
"She doesn't take chances or risks," Masters says.
Lipton is one of the more qualified CNMs anywhere. She holds three degrees, including a Masters in Science from Pace University in New York City. As a CNM, Lipton is an advanced registered nurse-practitioner specializing in women's health. (CNMs differ greatly from licensed midwives, whom Lipton says are "differently trained to do the same thing," and to confuse the two would be analogous to confusing a medical doctor with a naturopath.)
The medical knowledge in combination with the personal touch create a "more complete" experience, says Ripley.
Even when the formal six-week aftercare period ends, families still remain in contact with Lipton. Families often drop by on Wednesdays, Lipton's open hours office day. They send her pictures and e-mails with updates on the babies and invite her to their children's birthday parties. The family with the quickly-born baby this summer built Lipton and her husband a greenhouse in their backyard. All three women say they strongly and actively recommend Lipton to expecting friends. Lynch says she's even recommended Lipton in the line at the grocery store.
But popularity is hardly a goal of Lipton's, who keeps a relatively moderate caseload of no more than three births per month. For her, it's nothing more or less than one singular passion and the experience of "birthing a family," as she puts it.
"I feel so privileged," she says. "Birth is wonderful."
Local journalism is essential.
Give directly to The Spokesman-Review's Northwest Passages community forums series -- which helps to offset the costs of several reporter and editor positions at the newspaper -- by using the easy options below. Gifts processed in this system are not tax deductible, but are predominately used to help meet the local financial requirements needed to receive national matching-grant funds.
Subscribe now to get breaking news alerts in your email inbox
Get breaking news delivered to your inbox as it happens.
---