News > Spokane
Connect: Off-the-air with Richard Brown
Mon., Dec. 3, 2007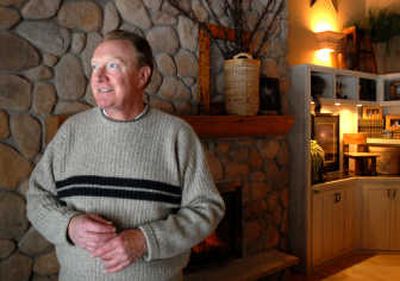 It can get really hot under the bright lights in a TV studio. There's little room for those who tend to buckle under pressure or who can't smile reassuringly while they explain that 5,000 more people starved in Africa refugee camps.
"TV is a fickle business," says former news anchor Richard Brown, who left KXLY on Oct. 26 after a challenging summer and fall that included a death in the family, a back injury and legal problems. "As journalists, we can do documentaries on big issues, but once the documentary runs and the shows are over, TV moves on to something else."
And it's a personality driven business. While writers retain some anonymity behind bylines, news anchors become familiar faces, especially in mid-sized markets like Spokane.
So Brown's disappearance from KXLY's evening lineup, where he'd been a staple at 5:00, 6:00 11:00 for nine years, didn't go unnoticed.
"In July, they brought on Dave Erickson to do the 5 o'clock, and that made it clear to me that I was on my way out," Brown says, adding that he wasn't fired. "It was time for me to leave, and so I left – I hold no animosity against anybody at the station."
Brown's contract ran until June of next year, but this fall a back injury put him partly out of commission, his mother-in-law passed away – and then he was arrested on allegations of driving drunk. He pleaded guilty Oct. 15 in Spokane County District Court to a reduced charge of first-degree negligent driving as part of a plea bargain with prosecutors.
"That was a serious lapse of judgment on my part," Brown says of the criminal charge, adding that KXLY management was aware he had been pulled over.
The TV station, however, declined to discuss specific reasons behind Brown's departure.
"Richard Brown left for personal reasons; that's all I can say about that," says Jerry Post, news director at KXLY. "I have a lot of respect for Richard as a person and as a journalist. He came here already having had a long and distinguished career, so he automatically came in high regard." Post adds that Brown "wasn't one of those anchors who just look out for themselves. Younger reporters looked to him as someone to learn from. He shined in that role."
Once Brown was off the air, rumors took off like wildfires in dry grass.
"On TVspy (a blog) postings were very specific about where I had met with people and when and what we'd talked about," Brown says. Most rumors had him heading up the South Hill to KREM-TV.
"It was all fiction. I hadn't talked to anyone at KREM and I still haven't," he says, shaking his head in disbelief. He says he regrets not handling his departure better.
"A newsroom really becomes like your family, and I should have told them myself. My leaving so abruptly created a distraction. And I should have said goodbye to the viewers."
Brown, 55, has been on the air for 32 years in such places as Edmonton, Alberta (his first TV job), Atlanta, New York and San Francisco.
Susanna Baylon, who co-anchored three evening news shows with Brown for two years at KXLY, says he was one of the reasons she came to Spokane.
"I'd never co-anchored before, I'd always been solo, so I wanted to sit next to someone who it would be really good to sit next to," Baylon says. "He made me a better anchor just by sitting next to me."
She left KXLY in April 2006 to start a family.
"He taught me a lot about how to handle mishaps off the air without everything falling apart on the air," Baylon says. "And he's just so funny. You don't think that when you first meet him, but he has a great sense of humor."
Being co-anchors is a little like being married, Baylon adds.
"You have to trust and respect each other," she says, and yes, sometimes people think co-anchors are actually married. "Viewers feel like they know you and they see you together all the time."
Brown and his wife, June, have one daughter who lives in Queens, New York. He's from Prince Albert, Saskatchewan, where he still has family.
"We try to go back every summer," Brown says.
In 2003, the couple bought a home that came with countless improvement projects.
"It's a '60s rancher and when we saw it, it had yellow vinyl siding, and I looked at June and said, 'You are crazy,' " Brown says. Now the rancher has what he calls a Montana lodge-style exterior.
"All the trim and the doors and all that we did ourselves," Brown says. "Outside, it has cedar shingles, and I put those on myself. What I'm focused on right now is my power tools and charity work."
Brown is on the board for Cancer Patient Care, and he also volunteers for the Chase Youth Awards.
Brown's broadcast career took him, among many other places, to Beirut in '84, Mozambique in '90 and Zaire in '94, where he was within close range of the bombing of Goma airport.
"When we sneaked into Mozambique with a photographer and a producer and were met by rebels, I thought, 'What have I gotten myself into?' At the same time, I've traveled the world on someone else's dime and had some incredible experiences. There aren't that many other jobs where you get to do that."
June, he says, has been an enormous support.
"She's put up with a lot in this business. She's always allowed me to take a stab at things." They've been together 32 years.
Brown was at one time an English and history teacher, then moved onto a job as a speech writer for the Canadian liberal party in 1975.
"We lost the election and all of us got fired," says Brown, but a friend asked him to join the staff at CFRN-TV in Edmonton. That's how he got started in television.
Brown came to Spokane and KXLY nine years ago from KGO-TV in San Francisco.
"At the time, I really thought I was going to retire, but I was driving June crazy," he says, laughing. "She has an interior decoration business, so she's got a lot going on. I guess I couldn't just walk around at home."
So is he thinking of retiring now?
"I guess I just need to decompress. Once you've been a journalist you can't just shut it off. It's like if you do that, you are like a diver that comes up too fast – then your head will explode."
Local journalism is essential.
Give directly to The Spokesman-Review's Northwest Passages community forums series -- which helps to offset the costs of several reporter and editor positions at the newspaper -- by using the easy options below. Gifts processed in this system are not tax deductible, but are predominately used to help meet the local financial requirements needed to receive national matching-grant funds.
Subscribe to the Coronavirus newsletter
Get the day's latest Coronavirus news delivered to your inbox by subscribing to our newsletter.
---