News > Voices
Landmarks: Township hall still standing
Thu., Dec. 20, 2007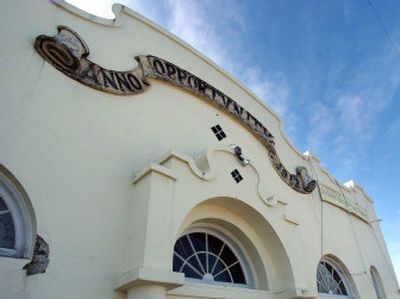 The Opportunity Township Hall is the last remaining township hall in the state of Washington.
There it sits at 12114 E. Sprague Ave., between a tavern and a denture clinic, a relic of an earlier time when townships were formed to administer rules and regulations within a small, usually rural, section of a county. Today, it is home to the Spokane Valley Heritage Museum.
"When people ask how to spot us out on East Sprague, I just tell them to look for the Alamo. That's us," said Jayne Singleton, museum director.
The Opportunity Township Hall was the official place of business for the township, the place where township officials administered such improvements as building and maintenance of roads, sidewalks and bridges. It also was where officials enforced domestic animal control, levying property taxes to fund their work.
The building was designed in 1912 by Spokane architect C. Harvey Smith in the Mission/Spanish colonial style, rarely seen in the Inland Northwest. Also in 1912, a bank and post office in the nearby town of Fairfield went up using the same design style. But, always the trend-setter, noted Spokane architect Kirtland Cutter was likely the first to use the style in his design of the W.J.C. Wakefield house in Browne's Addition.
In its heyday, the township hall also served as a community center for library services, church services, weddings, rummage sales and movies. But the golden days of townships would come to an end when, in 1969, the Legislature revoked townships' privileges of levying property taxes, which had been their main source of income – leaving dog licenses as the largest single source of funding.
Records show that Opportunity Township's revenues dropped from $30,361 in 1968 to $17,838 in 1970. By 1974, when Spokane County voters approved the demise of townships, the treasury was down to $55.35.
The building was vacant for many years. Ownership eventually came in 2003 to the new city of Spokane Valley, which turned over the deed the following year to the nonprofit Spokane Valley Legacy Foundation.
After renovations, the Spokane Valley Heritage Museum held its grand opening in August 2005. The building is listed on both the State and National Register of Historic Places.
Local journalism is essential.
Give directly to The Spokesman-Review's Northwest Passages community forums series -- which helps to offset the costs of several reporter and editor positions at the newspaper -- by using the easy options below. Gifts processed in this system are not tax deductible, but are predominately used to help meet the local financial requirements needed to receive national matching-grant funds.
Subscribe to the Coronavirus newsletter
Get the day's latest Coronavirus news delivered to your inbox by subscribing to our newsletter.
---
Subscribe and log in to the Spokesman-Review to read and comment on this story