Season for another holiday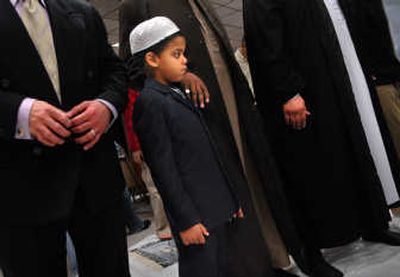 Mamdouh El-Aarag faces a challenge this time of year as his young children are surrounded by visions of Santa Claus and Christmas trees and mountains of gifts.
"Not everybody celebrates it," said El-Aarag, an environmental engineer in Spokane, who is Muslim. Still, his 5-year-old son "expects Santa to come," he said.
But on Wednesday morning, El-Aarag and his family joined about 200 Inland Northwest Muslims to celebrate the most important of two holidays on the Muslim calendar – Eid al-Adha (pronounced "EED-uhl-ad-ha").
Men, women and children gathered to kneel and pray in the Garry Middle School cafeteria on this holiday, which is also known as the Feast of Sacrifice.
"It's the best day of the year for Muslims," El-Aarag said.
Eid al-Adha marks Abraham's willingness to sacrifice his own son for Allah. It also commemorates the end of the hajj, or pilgrimage to Mecca.
The other Muslim holiday is Eid al-Fitr, which marks the end of the holy month of Ramadan.
Samia Quidwai, a 10-year-old Spokane resident, enjoys the celebration of Eid, eating her favorite foods and visiting with friends and family. So, when non-Muslim friends talk about Christmas, it doesn't bother her, she said.
"I kind of get used to it," Quidwai said. "And just ignore it."
Saba Shabir, 20, goes to school in Seattle now, but she grew up in Spokane and graduated from University High School. Taking part in a religious celebration out of the mainstream of her peers didn't upset her either.
"Eid was always there for me," Shabir said. "Personally, it's a time to ask for forgiveness from Allah and celebrate. … I didn't feel left out at all."
El-Aarag estimated that there are about 1,000 Muslim families in the area, though he admits it's impossible to know the exact number.
He hopes they will all soon be praying and celebrating important days in a new mosque to be built in the Spokane Valley. El-Aarag said "we're very close" to securing the final building permits for the building. Construction is expected to begin in mid-February or early March at 6411 E. Second Ave.
The mosque will be large enough to accommodate the entire Muslim community, as well as others who might want to attend workshops to learn more about the faith, El-Aarag said.
"Right now, we don't have the facilities to do that," he said.
Gatherings such as the one for Eid al-Adha are important to the entire Muslim community, but especially for the youngest generation, said Juli Al-Amin, the mother of eight children ranging in age from 11 months to 17 years.
"It means a lot, especially for the children," Al-Amin said. "Just the coming together of the Muslim community is good for the kids. … They know what we see at the mall is the Christian holiday and we have our holiday."
---