News > Spokane
Middle road to the high court
Sun., Dec. 30, 2007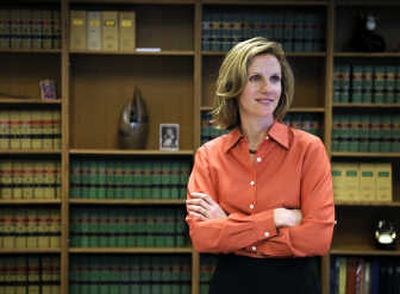 Washington state's newest and youngest Supreme Court justice has a mug on her desk at the Washington Court of Appeals in Spokane that hints at what has fueled her meteoric career: "Behind every successful woman is a substantial amount of coffee."
Debra Stephens laughs at the memento.
The 42-year old judge calls herself "kinetic" – shorthand for the substantial energy required to be an appellate court judge, mother, wife, actress, former school board president, Presbyterian deacon, athlete, debate coach and law school teacher.
Her colleagues have another word for the Gonzaga Law School graduate: brilliant.
"She's the best lawyer I ever worked with in 40 years. I don't know anybody who'd be a better Supreme Court justice. She's led an engaged life with her family, her profession and her community," said Mark Vovos, a Spokane plaintiff's lawyer.
"It's like a grand slam," said appellate lawyer and Spokane playwright Bryan Harnetiaux about Gov. Chris Gregoire's recent appointment of Stephens to the state's highest court. "She's brilliant, analytical and grounded," said Harnetiaux, who worked with Stephens for 12 years.
It's important for the state's highest court to have a representative from Eastern Washington, said U.S. District Court Judge Fred Van Sickle, who hired Stephens as a law clerk in 1993.
"It's a delight to have someone with her skills appointed," Van Sickle said.
Stephens' only public critics so far: a conservative group aligned with the insurance industry that fears she'll side too often with trial lawyers, who represent people suing corporations.
Her family and friends praise her work ethic: writing, teaching and presiding over the Orchard Prairie School Board while juggling family, career and church.
She keeps a poster of Albert Schweitzer in her home – a reminder of her call to service.
While putting in long hours in law school at Gonzaga, Stephens pumped breast milk for her newborn daughter Lindsey between classes and later brought her infant son Bob to Vovos' office while she wrote legal briefs.
The second of five daughters, Stephens was the first in her family to graduate from college and law school.
"If she doesn't get enough sleep, that's OK with her," said her mother, Jan Smith, who lives in Post Falls.
Her father, retired Spokane businessman Jim Williams, likes to tell a story from when Stephens was 7. She and her older sister Linda – then 9 – were riding bikes in their Millwood neighborhood.
Linda, crying and yelling, ran home. Some big kids had pushed them down and grabbed their bikes. Her younger sister had taken off after them.
Stephens came back with the bikes.
"I don't remember the details. But I was pretty intrepid then," Stephens said.
Stephens' parents divorced when she was 9, but they lived close to each other. Her mother, orphaned at 15, taught her daughters to treat people with respect and strive for a good education, Stephens said.
She graduated as co-valedictorian and class speaker of her West Valley High School class in 1983.
Although a Presbyterian, she chose Catholic Gonzaga over Whitworth because of Gonzaga's debate program. She had a scholarship in debate and won a national championship in extemporaneous and impromptu speaking in 1986.
In her resume, Stephens' humor comes through in a reference to another GU legacy: "Basketball Cheerleader, 1983-84 and Zags fan, 1983-present."
After graduating magna cum laude from GU as a philosophy major in 1987, she headed across the street to Gonzaga Law School, where she was a Thomas More Scholar.
She used her debate skills for National Moot Court contests, winning an award as national best oralist before graduating with highest honors in 1993. She still coaches GU's national Moot Court team.
Debate taught her strategy and timing, but her listening skills came primarily from being a mother and wife, Stephens said. "You learn to slow down and pay attention."
Stephens worked briefly as the staff attorney for Van Sickle in the federal courthouse before starting the work that would define her legal career – appellate law.
Vovos recalls bringing Stephens onto an all-male legal team representing the victims of Dean Mellberg, whose shooting rampage at Fairchild Air Force Base in 1994 killed four people and wounded 21 others, including a pregnant woman who lost the baby she was carrying.
Early in her legal career, Stephens handled the appellate work on the case before the 9th U.S. Circuit Court of Appeals, which led to a $17 million settlement with the federal government for the families in 2001.
"It was the hardest case I ever worked on," Stephens recalled. "The depositions were terribly difficult. Everyone cried, including the government lawyers."
She also handled the appeals in a lawsuit against Washington State University brought by Scott Geffre, a carpenter whose lungs were permanently damaged after inhaling varnish fumes on a campus project in 1996.
"We had to prove the state had intentionally harmed a man. That's when I found out she's absolutely brilliant," said Spokane attorney Dick Eymann.
After three weeks of trial, WSU agreed to pay $2.9 million in cash, lifelong injury benefits and a pension to Geffre for his injuries. It was one of the biggest civil settlements in Whitman County history.
Stephens was also chosen to argue the appeal in a complex lawsuit brought by Eymann and Idaho attorney Sandra Cody for the death of 86-year-old Delbert Hayward , who was abused and medicated to death at a St. Maries nursing home.
Stephens argued before the Idaho Supreme Court twice in that case – resulting in a May 2006 jury verdict of $18 million in punitive damages.
"It took a decade to resolve," Stephens said. "It was a great result – a message to the nursing home industry about the medical abuse of patients. The jury was outraged."
Stephens lacks the outsized ego typical of many trial lawyers, but she's tenacious and highly organized in the courtroom, Eymann said.
"She loves what the law stands for: right versus wrong and the right result. Will she be Justice (William O.) Douglas? No. She's not a liberal, but a moderate," Eymann said. Douglas was a Washington state resident who presided over a number of landmark decisions on the U.S. Supreme Court.
In 1995, Harnetiaux asked Stephens to join him as an appellate lawyer for the Amicus Curiae Program of the Washington State Trial Lawyers Association. The amicus program became a separate nonprofit foundation in 1999.
Its focus: preserving the right to trial by jury and the civil justice system and protecting the rights of injured people.
Stephens and Harnetiaux worked together until her appointment by Gregoire this spring to the court of appeals in Spokane. She ran unopposed for her judicial seat in November and was re-elected.
Stephens' ascension to the highest court in the state makes some court-watchers uneasy.
Accusations of "judicial activism" were a rallying cry among conservatives in 2006, when they spent $3.4 million in an unsuccessful effort to oust Chief Justice Gerry Alexander and Justice Susan Owens.
Some critics worry that after a dozen years working for the state trial lawyers' foundation, her court decisions will side with them.
"No one on the Supreme Court has been so narrowly affiliated with a special interest group" in recent decades, said Alex Hays, president of the group Justice for Washington, affiliated with the insurance industry.
The trial lawyers, strong backers of Democrats, are a "left-wing political force," Hays says.
Stephens disagrees, saying most of the work of the amicus foundation is apolitical and independent of the trial lawyers association.
"Its values include preserving the jury system, access to justice. If it were simply a special interest group, it wouldn't have the respect it has in the judiciary," she said.
"I'm fairly conservative," Stephens added. "I believe you only decide what you need to decide and you practice judicial restraint."
Her father – a Spokane Republican who ran for public office twice – agrees that politically, his daughter seems "fairly middle of the road."
"I would say she tends to be conservative, but she's got liberal aspects to her, too. On the environment I would call her green, certainly," Williams said.
One of Stephens' key qualities is humility, Harnetiaux said.
"With that humility comes a restraint against doing things that are unduly activist. I think she has a very healthy respect for the limited role of a court."
With only eight months on the appeals court, Stephens hasn't built a lengthy record.
But two cases stand out, giving clues to her judicial philosophy.
In August, Stephens wrote a strong affirmation of Washington's Public Disclosure Act, saying "administrative inconvenience" can't be used as an excuse not to comply with the law requiring access to public records.
The court struck down a Franklin County Superior Court's ruling that the city of Mesa's tardy and partial responses to voluminous disclosure records by the city's former mayor and her husband were good enough.
"You can't just say, 'This is inconvenient.' I just emphasized what the law says," Stephens said, adding that she's seen the other side of the public disclosure act as an elected school board official. "I was very pleased with that decision. I value access to information and to justice. The Public Disclosure Act is an important piece of open government."
Stephens said her other most important decision involves the right to a public trial.
In November, the court overturned the second-degree rape conviction of Nicholas G. Duckett because a Spokane County Superior Court judge failed to properly advise him of his rights before a closed-door questioning of prospective jurors on their personal experiences with sexual abuse.
Stephens said the Washington Supreme Court requires a five-part analysis before conducting part of jury questioning outside the courtroom – including allowing anyone present to object to the closure motion.
"It was important to tell the trial judges, we are not trying to tie your hands. There's room for in-chambers questioning, but they still have to go through the five-part analysis," she said.
Stephens said she hadn't planned to leave the appeals court.
"It's really the workhorse court. The appeals judges write 80 opinions a year, compared to about 15 on the Supreme Court. I was just beginning to appreciate what I didn't know," she added.
But when Gregoire contacted her about the Supreme Court job, she accepted.
After a number of high-profile 5-4 decisions on the court, Gregoire said when announcing her choice in early December that she's hoping the "collegial" Stephens can help unify the justices.
Although she will be privately sworn in by Chief Justice Alexander on Tuesday, there will be a public swearing-in ceremony for Stephens on Jan. 7 in Olympia.
Stephens has invited a Spokane pastor, the Rev. Percy "Happy" Watkins of New Hope Baptist Church, to give an invocation at the event. She met him in 2003 when they both had parts in the Onyx Theater Group's performance of Harnetiaux's play "Pastime," about Jackie Robinson and the breaking of the color line in baseball in 1947.
Stephens played Lila, a Southern belle married to sportscaster Red Barber; Watkins played "Mule," one of the Negro League players.
2008 will be a transitional year for Stephens and her family. Her daughter will be graduating from Mount Spokane High School next spring, but her son, an actor and singer, will be starting middle school in Olympia and is enthusiastic about the move.
Husband Craig is the territorial manager for Hill-Rom, a major hospital equipment company. He travels through Montana, Eastern Washington, Idaho, Oregon and Alaska in his job.
Stephens will be commuting to Spokane to teach a winter semester constitutional law seminar with Harnetiaux at Gonzaga – where some of the guest speakers will be other Supreme Court justices.
The family will keep its Inland Northwest roots intact by holding on to a family compound on the Snake River in Idaho, where Stephens' father and uncles bought lots in the 1950s and she spent childhood summers.
Stephens and her husband bought some of the land from an uncle and are building a cabin.
"It's beautiful there. I'm hoping it will be in the family for generations," she said.
Local journalism is essential.
Give directly to The Spokesman-Review's Northwest Passages community forums series -- which helps to offset the costs of several reporter and editor positions at the newspaper -- by using the easy options below. Gifts processed in this system are not tax deductible, but are predominately used to help meet the local financial requirements needed to receive national matching-grant funds.
Subscribe to the Coronavirus newsletter
Get the day's latest Coronavirus news delivered to your inbox by subscribing to our newsletter.
---