News > Spokane
Dogs get second chance in prison
Thu., Feb. 1, 2007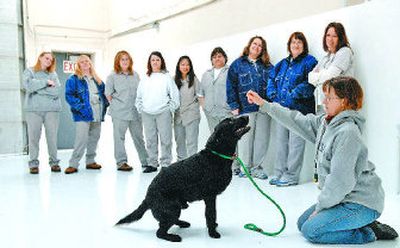 Prisoners at Geiger Corrections Center will soon help others avoid death sentences.
Starting this month, 10 federal women inmates will train shelter dogs from Spokane County Regional Animal Protection Service that have been passed over for adoption and may otherwise be euthanized.
Nancy Hill, SCRAPS director, said the goal will be to make the animals more appealing by giving them intense training. The new program, called FIDO (Federal Inmate Dog Opportunities), will start with five dogs that will live with the women in their dorm at Geiger. Each canine will be assigned to a pair of prisoners and will sleep in a crate between their beds. During the day, the women will teach them to sit, lie down, walk on a leash, remain calm and follow other commands.
"We don't get that human contact," said Malee Manraksa, who has five months left to serve on her sentence. "It will be nice to have someone to lavish that kind of attention on."
The participating inmates were convicted of nonviolent crimes and aren't considered to be flight risks, in part, because they're nearing the end of their sentences, said Geiger Corrections Sgt. Kim Lytle, a SCRAPS volunteer who led the effort to start FIDO.
Inmates are being taught by dog trainers volunteering their time. After a few weeks in FIDO, pets will be tested for behavior and put up for adoption on petfinder.com.
"In the long run we hope to expand it into grooming and perhaps boarding," said Lytle, who also is a correspondent for The Spokesman-Review. "There are a lot of opportunities to expand the program from the first five."
Many women, like Joaquina Reyes, said they have begun to consider working as trainers, walkers or at shelters after their prison terms end. Reyes said she plans to move back to the island of Saipan.
There are few pet professionals on an island that has many stray dogs, Reyes said.
"The opportunity is really big where I come from," Reyes said. "I could make a lot of money."
Reyes added that there aren't many job training opportunities at Geiger.
"This is the best that we can get," Reyes said.
FIDO inmates will earn 29 cents an hour for up to 40 hours a week through the federal Bureau of Prisons.
The women had been part of a "clean team" in downtown Spokane until the bureau asked Geiger last year to keep prisoner jobs on campus.
Since then, the women mostly have been cleaning and doing odd jobs at Geiger.
"It's not like a job like maintenance," said Shelley Day, a former software executive convicted of defrauding a bank to get a loan, according to the Seattle Times.
"It's a program we can do that benefits the community."
Day said she was grateful that volunteers were willing to help inmates get a second chance.
"You get lonely and to have a companion that you can love and play with is something you don't realize you miss until you're here," Day said.
Local journalism is essential.
Give directly to The Spokesman-Review's Northwest Passages community forums series -- which helps to offset the costs of several reporter and editor positions at the newspaper -- by using the easy options below. Gifts processed in this system are not tax deductible, but are predominately used to help meet the local financial requirements needed to receive national matching-grant funds.
Subscribe now to get breaking news alerts in your email inbox
Get breaking news delivered to your inbox as it happens.
---