Publisher Deen fought for rights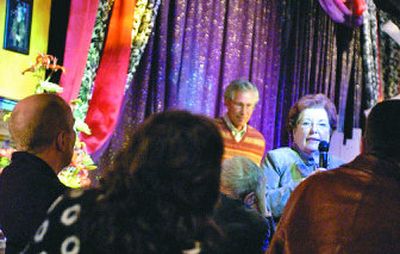 Longtime newspaper publisher John Deen appreciated the importance of accuracy. He might have approved of the unflinchingly honest tributes at his wake Sunday in Spokane.
Yes, Deen left a huge mark on human rights causes in Spokane, according to friends who attended the event at Dempsey's Brass Rail bar. He's considered the father of a city law that prohibits discrimination based on anything from age to sexual orientation. But Deen could also be cranky, calculating and relentless.
Deen put these traits to work in fighting for the city's nondiscrimination ordinance, which was passed in 1999.
"That wouldn't have happened without John," said Mike Schultz, who bought Stonewall News from Deen two years ago. The newspaper was published by Deen from 1995 to 2005 and has a wide circulation among the gay community stretching from central Montana to Seattle.
Deen, a longtime smoker, died at his Spokane home Jan. 17 at the age of 72 from lung cancer.
Former Spokane councilman and longtime friend Dean Lynch said Deen was haunted by his inability to extend the city's nondiscrimination ordinance to protect transgender residents.
When the law was proposed in 1996, it included protection for gays, lesbians, bisexuals and the transgendered. Some City Council members were squeamish at the notion of passing a law that would protect, for example, the job of a man who wears a dress, Lynch recalled. The law also faced the prospect of voter rejection. Deen ultimately agreed to soften the law.
"If there was one thing we could've given him when he was alive, it probably would have been to add transgender to the city's nondiscrimination ordinance," Lynch said.
It's a moot point, though. A statewide anti-discrimination law that took effect last year includes the transgendered.
At least 50 people turned out for Deen's tribute.
A grandmother recalled seeing Deen at countless public meetings – he was usually there both as reporter and human rights activist. An attorney remembered how, when he started to practice law and was struggling financially, Deen loaned him money for newspaper ads.
Most say Deen's biggest legacy will be the nondiscrimination ordinance. It's rarely invoked these days, said Mark Mustoe, a longtime friend. That's the point, Mustoe said, and is proof that businesses and property owners know it's illegal to discriminate against someone on the basis of sexual orientation.
"The intent was to safeguard fairness. Just having that set in law was important," Mustoe said. "Words are very powerful."
Mustoe also credited Deen for raising the issue at a time when "nobody else was talking about human rights here."
Deen devoted his life almost entirely to Stonewall News, though he barely made enough money to survive, said John Marshall, a student and bartender who worked for Deen and cared for him in his final days. "The paper was his life."
The newspaper was founded in 1992 by Larry Stone. Its name refers to the 1969 Stonewall Riots, which took place after New York City police raided a gay nightclub, igniting outrage and efforts to end such harassment.
Eventually, the movement made it to places like Spokane, where it was championed by people like Deen.
"For the most part, people in Spokane are very fair-minded. It's easy to overlook that," said Mustoe. "But this community would not be as far along if it weren't for him."
---