News > Spokane
WSU alum leaves legacy of pride
Sun., Feb. 18, 2007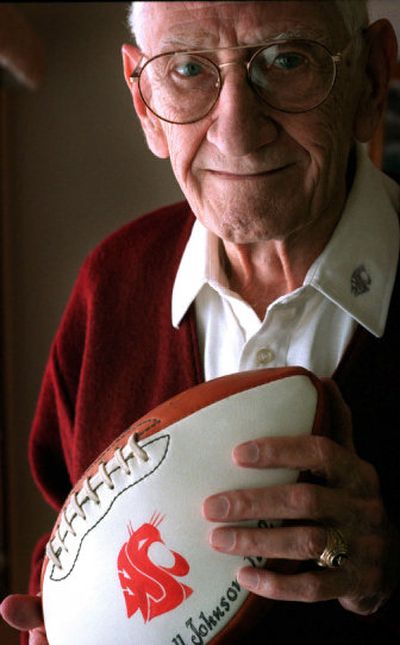 The symbol has made its mark everywhere – from sweat shirts and hats, as a tattoo on an ankle and even as an emblem on a World War II fighter plane.
Throughout the country, and especially in these parts, most everyone can recognize the roaring cougar logo, the trademark of Washington State University.
It was designed in 1936 by Randall Johnson, a WSU student at the time who later sold the rights to the logo for only $1.
Johnson, a longtime Spokane resident and local historian, died Friday at age 91. Among his numerous contributions to the community and to WSU, his greatest gift will always be the distinctive logo of the letters "WSU" in the shape of a crimson cougar head.
"This was a man who was so involved and loved all things 'Cougar,' " said Bev Hauptli, a 1977 WSU graduate and close family friend. "Randall's legacy is incredible – creating a logo known and respected around the world."
Johnson came up with the logo during his junior year at the school, which was known at the time as Washington State College.
As a fine arts major doing sign painting for the college, Johnson was asked to come up with a trademark to label truck doors and signs so that the school's entire name wouldn't have to be spelled out.
"As I remember, I worked about three nights on it," Johnson said in a 2000 interview with The Spokesman-Review. "I was just kind of doodling. I wanted a cougar. I wanted it to be animated, directional and also carry at a distance. Finally one night I got it hooked together the way I liked it."
The drawing was an instant hit.
"Dad must have painted hundreds of Cougar logos and rally signs on our dining room table," his daughter, Roxanne Carlson, wrote in an e-mail.
"Many of them were auctioned off as fundraisers for Cougar athletics. … He has always felt truly privileged that WSU adopted his design as their official logo, and to our family, it represents Cougar Pride!"
Johnson's creation was altered slightly in the late 1950s, when Washington State College became WSU. Then in 2000, the university – with Johnson's approval – redesigned the logo by framing the cougar with a shield.
Over the years, the cougar logo has adorned jerseys, banners, football helmets, license plates and other memorabilia. Astronaut John Fabian, a WSU graduate, carried the cougar emblem when he orbited Earth.
When the university asked Johnson to donate the rights to the logo for a token $1, he didn't hesitate to help out his alma mater. "I said yes, because they've done a lot for me," Johnson said in previous interviews with the newspaper.
WSU honored Randall with an alumni achievement award in 1979. In 1997, he and his wife, Jeanne, were designated as WSU Benefactors. A scholarship in his name was established by the WSU Athletic Foundation.
Besides his contributions to WSU, Johnson was a noted local historian. In 1999, he was named a "living legend" – the highest honor bestowed by the Westerners, an international Western history organization – for his work as a chronicler of Inland Northwest history.
According to previous Spokesman-Review articles, Johnson's interest in the West began in his youth, as he and his family moved from his birthplace in LaCrosse to Washtucna to Walla Walla and finally to Pullman.
His father was a school principal and superintendent, and both his parents encouraged his interest in history.
After World War II, while working as an advertising executive with Washington Water Power, Johnson became a liaison to many of the area's small towns. He would ask folks about the local history and they'd direct him to the oldest and most knowledgeable people in town. "Those people had a ring of authenticity that stretched all the way back to 1858," Johnson once said.
He later started writing journal articles for the Pacific Northwesterner on topics ranging from old-time cattle branding to the Japanese balloon-bombing of the West Coast. Many of his pieces also were accompanied by his own illustrations in oils, watercolors and sketches.
A World War II veteran, Johnson served as a corporal in the Army at Fort Leavenworth, Kan., where he produced visual aids to assist in training field officers.
He and his wife also were founding members of St. Stephen's Episcopal Church on the South Hill.
He was always good-humored and generous, said Hauptli, who considered Johnson her "honorary dad." "Randall was a loving husband, dad and friend," she said. "We know he will be in our hearts forever."
Johnson died Friday afternoon at a South Hill nursing home with his wife by his side. In addition to Jeanne, whom he married in 1940, Johnson is survived by his children: Leland, Art, Ward, Roxanne and Tom; Philip, his grandson, and many cousins, nieces and nephews. Cremation will be followed by a private family service.
Local journalism is essential.
Give directly to The Spokesman-Review's Northwest Passages community forums series -- which helps to offset the costs of several reporter and editor positions at the newspaper -- by using the easy options below. Gifts processed in this system are not tax deductible, but are predominately used to help meet the local financial requirements needed to receive national matching-grant funds.
Subscribe to the Coronavirus newsletter
Get the day's latest Coronavirus news delivered to your inbox by subscribing to our newsletter.
---