News > Idaho
Hunter's pizzly bear one of a kind
Sat., Jan. 20, 2007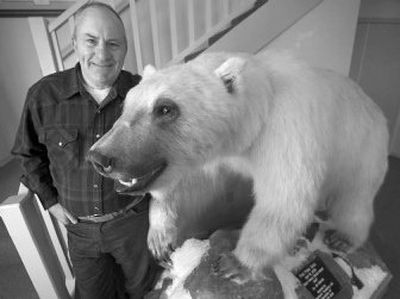 GLENNS FERRY, Idaho – Jim Martell has been hunting since age 8 and has dozens of trophies, including two 10 feet-tall brown bears from Russia, a wallaby from New Zealand and two ibex from Kyrgyzstan.
But his most exotic yet is the world's only recorded incidence of a wild polar bear-grizzly crossbreed.
Martell, 66, shot the hybrid that scientists have dubbed a "pizzly" this spring, sending shockwaves through the scientific community. The now-stuffed bear took its place in his trophy room this month, a few feet away from a Canadian wolf.
He plans to have friends and people in town over to celebrate the big kill with a bear party in the next few weeks.
"It is just a beautiful animal," said Martell, who owns a telephone company in Glenns Ferry, and operates a Salmon, Idaho-based elk ranch. "When we first got up to it, my guide said to me, 'you have a million dollar bear.' "
The pizzly – Martell prefers "polar grizz" – can't actually be legally sold. But Martell has already received requests from museums that want to display the animal and had calls from scientists asking him to describe the characteristics of the unusual creature.
From a distance, the animal looks like a slightly dirty polar bear. But up close, dark rings around its eyes, a hump on its back, long brown claws and an indented face are giveaways to its unique heritage.
DNA tests in April showed the bear's mother was a polar bear and its father was a grizzly. The bear has the small head and neck of a polar bear – they come in handy when going after seals through holes in the ice – but at about 7.5 feet long, it's closer in size to a grizzly than a polar, which can grow up to 11 feet.
The bear caused a stir in biological circles after Martell shot it on a 14-day, $45,450 hunt on Banks Island in northern Canada earlier this year. Polar bears and grizzly bears have been successfully mated in the past, but only in zoos; both bears' breeding habits have them mating several times before the female can become fertile, which means the two bears would have had to get along for about a week in the wild together, said Ian Stirling, a biologist who specializes in polar bears with the Canadian Wildlife Service in Edmonton, Alberta.
"It's obviously not a case of – to use a very crude term – a one-night-stand," Stirling said. "That's what makes this so surprising: they obviously look different, you'd think they'd recognize that they were dealing with a different kind of animal."
Local journalism is essential.
Give directly to The Spokesman-Review's Northwest Passages community forums series -- which helps to offset the costs of several reporter and editor positions at the newspaper -- by using the easy options below. Gifts processed in this system are not tax deductible, but are predominately used to help meet the local financial requirements needed to receive national matching-grant funds.
Subscribe now to get breaking news alerts in your email inbox
Get breaking news delivered to your inbox as it happens.
---