News > Spokane
Inoue, Baldwin keep setting pace
Sun., Jan. 21, 2007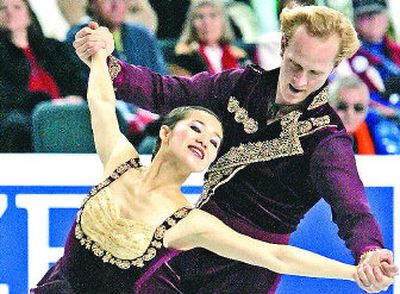 For America's top pairs teams, retiring in 2006 was a more popular move than the side-by-side jumps.
Since the 2006 U.S. Figure Skating Championships in St. Louis, pairs silver medalists Marcy Hinzmann and Aaron Parchem, bronze medalists Kathryn Orscher and Garrett Lucash and fourth-place finishers Tiffany Scott and Rusty Fein all made the announcement. The pairs' average ages: 26. Their average years together: less than four.
Then there's John Baldwin and Rena Inoue. He's 33. She's 30. They've skated together since 2000 and won national titles in 2004 and again last year when they landed the first throw triple axel by a team in the history of the event.
Baldwin's the oldest skater in the field of 254. This will be his 21st national championship, 14 times as a singles skater. Inoue, a three-time Olympian, used to skate for Japan in singles and pairs.
And the elder statespersons show no signs of slowing down.
"The fans coming to the pairs event are not going to see one (throw triple axel), they are going to see it in both the short and the long (programs)," Baldwin said. "We try to make it like any other throw for us, even through it's definitely still a big deal for us, and hopefully a big deal for everybody else."
The pair also were the first team to complete the jump at the 2006 Olympic Games, the World Championships and a Grand Prix event.
There have been downfalls when attempting such a difficult move. At last month's ISU Grand Prix Finals in Russia, Inoue fell on the throw, but the pair held on to finish fourth. Inoue also fell in an attempt one week earlier at a made-for-TV event in Boston.
But winning nationals for the second time and competing in the Winter Olympics (where they finished fourth) has its perks off the ice. In June, Inoue and Baldwin attended a state dinner at the White House to honor Japanese Prime Minister Junichiro.
The year has had its share of health issues. Baldwin was diagnosed with shingles in the fall. Inoue has had a bad ankle which she said never had proper time to heal because of their rigorous tour schedule.
They are favored to win their third national title, skating to "Soul of Spain" by 101 Strings during Wednesday night's short program and selections by G. Puccini in Friday's free skate.
"We're very confident and we feel ready to do any competition," said Inoue, who gave up her Japanese citizenship and became a U.S. citizen in 2006 to represent this country in the Olympics.
The goal, Baldwin claims with confidence, goes beyond nationals.
"We focus on the other teams in the world because that's what we're really thinking of," he said. "We hope to get a medal at Worlds this year."
Local journalism is essential.
Give directly to The Spokesman-Review's Northwest Passages community forums series -- which helps to offset the costs of several reporter and editor positions at the newspaper -- by using the easy options below. Gifts processed in this system are not tax deductible, but are predominately used to help meet the local financial requirements needed to receive national matching-grant funds.
Subscribe to the Coronavirus newsletter
Get the day's latest Coronavirus news delivered to your inbox by subscribing to our newsletter.
---