News > Features
Skating's 'nuts' about Schulz
Fri., Jan. 26, 2007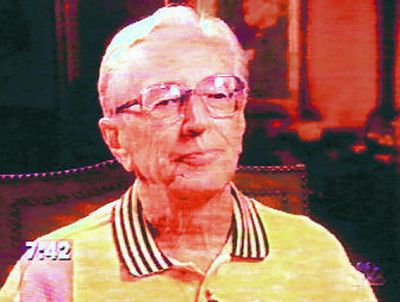 No, Peppermint Patty will not be inducted into the U.S. Figure Skating Hall of Fame.
But her creator, the late "Peanuts" cartoonist Charles Schulz, will be.
He'll be inducted posthumously in a ceremony today at the Spokane Arena during the pairs finals of the State Farm U.S. Figure Skating Championships.
Schulz's widow, Jean Schulz, will accept the award on behalf of her husband.
A 15-minute ceremony is scheduled for around 2 p.m. today, presided over by Jan Serafine, president of the World Figure Skating Museum and Hall of Fame. Olympic gold medalist Scott Hamilton will present the medal.
Schulz was a well-known fan of both ice hockey and figure skating. During the 50-year life of "Peanuts," he created at least 70 strips about figure skating, including one monthlong series in which Peppermint Patty prepares for a figure skating competition.
Her coach: Snoopy.
An ice arena in the cartoonist's hometown of St. Paul, Minn., is named the Charles M. Schulz-Highland Arena Complex. In 1969, Schulz built the Redwood Empire Ice Arena in his later home of Santa Rosa, Calif. The arena still carries the motto: "Snoopy's Home Ice."
Two of Schulz's daughters became professional ice skaters.
The U.S. Figure Skating Hall of Fame is at the World Figure Skating Museum in Colorado Springs, Colo. The hall has about 90 members; Schulz is this year's only inductee.
Local journalism is essential.
Give directly to The Spokesman-Review's Northwest Passages community forums series -- which helps to offset the costs of several reporter and editor positions at the newspaper -- by using the easy options below. Gifts processed in this system are not tax deductible, but are predominately used to help meet the local financial requirements needed to receive national matching-grant funds.
Subscribe now to get breaking news alerts in your email inbox
Get breaking news delivered to your inbox as it happens.
---