News > Features
A chip off the old Croc
Mon., July 2, 2007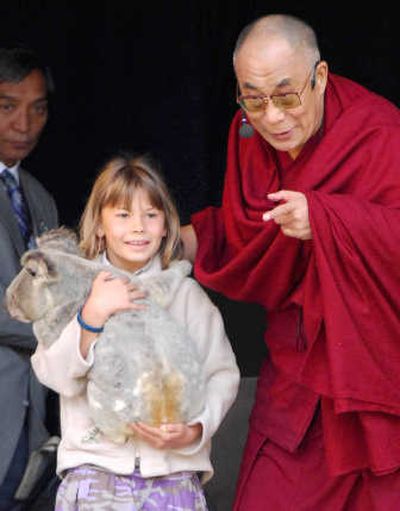 At an age when many girls are still playing with their Barbie dolls, Bindi Irwin has moved on to something a bit more challenging.
"I have Blackie my black-headed python. I also have Corny the corn snake. He sleeps with me at night," the 8-year-old-daughter of the late crocodile hunter, Steve Irwin, says proudly as she rattles off the names of the menagerie she keeps back home in Queensland, Australia.
It's a group she hopes to introduce to the rest of the world through her new television show, "Bindi the Jungle Girl," airing Saturdays on the Discovery Kids Channel (2 p.m., cable channel 121 in Spokane, 101 in Coeur d'Alene).
"I also have Jaffa my koala and Ocker, my favorite cockatoo. And I have other birds that stay with me. And Candy, my pet rat, sometimes stays with me," the blond-pigtailed bundle of energy continues until her enthusiasm gets the better of her and her words begin to run together, finally tripping over one another in a heap.
"Sorry," she offers with a giggle as she comes up for air.
"Bindi The Jungle Girl" takes viewers around the world to see animals in their natural habitat while she discusses things like the status of those in danger of extinction.
"There are only a few thousand left in the wild, and they could all be gone by the time I'm old enough to drive," she says of tigers and cheetahs.
As her father did, she also frequently makes pitches not to use products that result in the needless deaths of animals.
Each show also returns home to Bindi's two-story tree house in Queensland, Australia, where the little girl with the soft Aussie accent interacts naturally with her exotic animals.
"I love it in my tree house. It's the best place to be, pretty much," she says. "I just go there to sleep over sometimes."
She also keeps videos of her father there.
"I'm ever so lucky because I have so much footage of my dad in the tree house with me," she says.
Then she adds softly: "Which is very nice to have, because some people only have like one or two pictures of their father or the one who died."
Bindi was barely 8 when her father was killed by a stingray while filming an underwater documentary at Australia's Great Barrier Reef last September.
The two already had begun working together on what would become "Bindi The Jungle Girl," and Irwin is featured prominently in early episodes. In one comical moment, a nest's startled resident briefly shakes a fist in Irwin's face before deciding he's all right.
Bindi began accompanying him on film shoots when she was just 6 days old and learned early on, she says, what her life's work would be.
"I've always wanted to teach people about animal conservation," she says. "I want to follow in my father's footsteps. I loved him so very, very much."
The birthday bunch
Actor Robert Ito ("Quincy") is 76. Actor Ron Silver ("West Wing," "Veronica's Closet") is 61. Writer-director Larry David ("Curb Your Enthusiasm," "Seinfeld") is 60. Model-actress Jerry Hall is 51. Actress Yancy Butler ("Witchblade") is 37. Singer Michelle Branch is 24. Actress Ashley Tisdale ("High School Musical") is 22. Actress Lindsay Lohan is 21.
Local journalism is essential.
Give directly to The Spokesman-Review's Northwest Passages community forums series -- which helps to offset the costs of several reporter and editor positions at the newspaper -- by using the easy options below. Gifts processed in this system are not tax deductible, but are predominately used to help meet the local financial requirements needed to receive national matching-grant funds.
Subscribe now to get breaking news alerts in your email inbox
Get breaking news delivered to your inbox as it happens.
---