News > Nation/World
Fewer Baghdad civilians die
Mon., July 2, 2007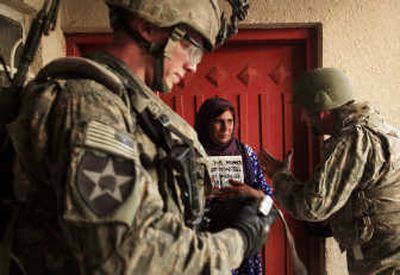 BAGHDAD – Iraqi civilian deaths in Baghdad dropped significantly in June, a possible indication that recent American military operations around the country and raids on car-bomb shops in the areas ringing the capital are starting to pay off.
But June also marked the end of the bloodiest quarter for U.S. troops since the war began in March 2003.
Unofficial figures compiled by McClatchy Newspapers show 189 Iraqis, including police and government security forces, were killed in the capital through Friday, a drop of nearly two thirds since this year's high in February, when 520 were killed. The average monthly death toll of Iraqis in Baghdad was 410 from December through May.
The downturn in civilian deaths in Baghdad, should the figures hold, could arm Lt. Gen. David Petraeus, the top U.S. military commander in Iraq, with the kind of results he needs to forestall pressure to set timetables on troop withdrawals.
He is scheduled to deliver a progress report on the war to Congress in September.
The trade-off for the decline in civilian deaths in Baghdad may be high U.S. casualties. The Web site icasualties.org tallied 101 U.S. soldiers killed in June, one of the deadliest months in Iraq for American forces. This raised to 330 the number of U.S. troops killed in the last three months.
The U.S. military, having added 28,500 additional forces, are now at full "surge" strength of 150,000 and are engaged in high-profile military campaigns to pacify the country.
U.S. commanders warn a higher body count is in the offing, as forces step up fighting this summer. Forty-four of the U.S. casualties in June occurred in Baghdad, caused mostly by roadside bombs – five of them Thursday in an attack involving a roadside bomb, gunfire and grenades in Baghdad's southern Rasheed district. Seven soldiers were wounded, the military said.
Civilian deaths seemingly are inevitable in urban guerilla warfare that pits U.S. forces against fighters who live among the population. U.S. military officials say they are sensitive to potential backlash that could inflame anti-American opposition here.
Local journalism is essential.
Give directly to The Spokesman-Review's Northwest Passages community forums series -- which helps to offset the costs of several reporter and editor positions at the newspaper -- by using the easy options below. Gifts processed in this system are not tax deductible, but are predominately used to help meet the local financial requirements needed to receive national matching-grant funds.
Subscribe now to get breaking news alerts in your email inbox
Get breaking news delivered to your inbox as it happens.
---