News > Spokane
For generations, summer means a swim at Sal's
Mon., July 2, 2007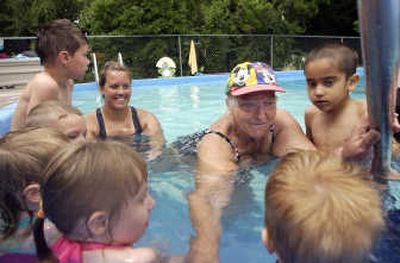 Today's the day of the plunge. On the edge of Sally Jackson's backyard pool, children line up like ducklings with inflatable tubes around their middles and looks of uncertainty on their faces.
They stare down at the chlorine blue water and the 75-year-old swimming instructor who thrusts her sagging arms upward to receive them.
"Come on, Omar. Come to grams," yells Sal. She reaches for the boy's armpits and slows his fall just enough to keep him from shooting through the bottom of his floatation device.
"Super-duper, Omar. Super-duper," she shouts, passing the boy to an assistant just in time to catch the next child leaping from the pool's edge. Jackson, full-bodied with long, braided gray hair tucked beneath a Mickey Mouse ball cap, is a Spokane Valley institution. Families who have brought their young to this Sixth Avenue pool for more than 40 years say Sal could teach a stone how to tread water.
Grandparents sit poolside citing Sal's words of encouragement, her "wowees" and "you can do its," like Bogart fans who have memorized lines from "Casablanca."
"She's the best," says Alyce Jesse, who watches her 3-year-old grandnephew work on exhaling underwater while doing the flutter kick.
Four generations of Jesse's family have "come to Gram's," including Jesse's mother, Rose Wilson, who at 50 was so afraid of drowning she wouldn't set foot in a lake.
Sal got Wilson swimming by putting an inflatable tube beneath her neck to keep Wilson's head afloat while the student rested on her back and worked on her kick. Nine days later, Wilson had worked up the confidence to turn over and swim face down, tubeless. That's Sal's promise for $60. Her goal is have every student who sticks with her program capable of swimming a mile.
Swimming lessons at Sal's is an odd tradition for those who didn't grow up in the Valley. Elsewhere, teaching children to swim has most often been the work of the Red Cross, YMCA or parks departments. For years, the county parks department, lacking a community pool, offered swimming in lakes.
Sal got her start teaching kids to swim at Liberty Lake 56 years ago. But in Spokane Valley, which grew to city proportions under a rural county government, individuals had to shoulder certain services. If you wanted something done, you did it yourself.
The old University High School had an illuminated athletic field because a parent who happened to be an electrician hung the lights and strung the wire. Otis Orchards had a baseball park because parents in East Valley School District decided one weekend to raise a backstop and carve a diamond into the playground sod. Spokane Valley has a girls softball league with more than 1,000 players because Jackson started the league. She also coached Little League baseball for years, raised five sons and one daughter, and took in several foster children. She still serves as a volunteer Juvenile Court guardian for wards of the state, many of whom are victims of physical and sexual abuse.
Sal got it in her head that she and her husband, Ron, could dig the pool with spades. She got a neighbor with a backhoe to come over and scoop out the first 3 feet, but her 20-foot by 40-foot pool is 8 feet deep at the east end.
This all transpired at a time when public pools in Spokane Valley were in short supply. There were two school pools – at Dishman School and West Valley Junior High – in Spokane Valley. But the Dishman pool had been filled in by 1966 when Jackson decided to dig her own. West Valley Junior High was being razed to make way for retail space at Trent Avenue and Argonne Road. The county parks department was still three years from building its first Spokane Valley pools.
After the backhoe did its part, Sal, as she puts it, dug out the rest of the hole "with a shovel in one hand and a beer in the other." No sooner do the words leave her mouth than she suggests that maybe that detail shouldn't be printed in the newspaper, as Sal's pool is a family operation.
But who could possibly gouge a hole in the earth deep enough to bury a two-car garage without at least one beer? After all, from start to finish the pool took the better part of two years, with Sal, then 34, not only working the shovel, but bending the rebar and pouring most of the concrete.
Forty years later, the pool still holds water and Sal, transforming children from sinking stones to swimming trout, utters the words she must have whispered to herself a thousand times during her shovel days: "You can do it. You can do it. You can do anything, remember?"
Local journalism is essential.
Give directly to The Spokesman-Review's Northwest Passages community forums series -- which helps to offset the costs of several reporter and editor positions at the newspaper -- by using the easy options below. Gifts processed in this system are not tax deductible, but are predominately used to help meet the local financial requirements needed to receive national matching-grant funds.
Subscribe now to get breaking news alerts in your email inbox
Get breaking news delivered to your inbox as it happens.
---