Sports
Hamlin gets first victory of 2007
Mon., July 2, 2007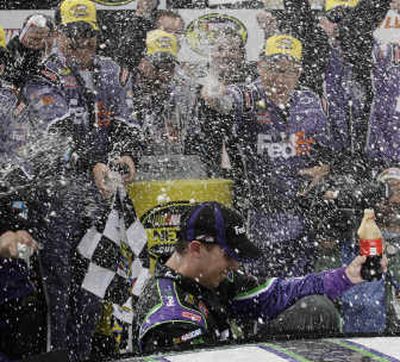 LOUDON, N.H. – Denny Hamlin was so nervous during the last few laps of Sunday's NASCAR Nextel Cup race at New Hampshire International Speedway that his right foot was shaking on the gas pedal.
Hamlin, who believes he needs race wins to be a serious contender for his first Cup championship, was out front, thanks to a late-race gamble on a two-tire stop. And four-time series champion Jeff Gordon was looming close in his mirrors.
"You see Jeff coming and you're trying your best to not be the guy who chokes at the end," Hamlin said.
Last year's top rookie had his hands full at the end, trying to keep his No. 11 Chevrolet out of the wall and ahead of Gordon's No. 24.
"I was all over the track those last two laps," he said. "I was basically just trying not to give up the bottom."
Hamlin pulled it off, beating the series points leader to the finish line by 0.068 seconds – less than a car length – to earn his third career victory and first since last July at Pocono.
Hamlin came into the race second in points, but he's been frustrated, leading laps and contending without being able to take a checkered flag in the first 16 races.
It appeared he would fall short again this time, with Martin Truex Jr., Gordon and Truex's teammate, Dale Earnhardt Jr., all running ahead of Hamlin late in the race.
But the leaders made their final scheduled pit stops on lap 255 during a caution period and Hamlin was the only one of the quartet to take two fresh tires instead of four. He vaulted from fourth to first and stayed out front to the end of the Lenox Industrial Tools 300.
Earnhardt wound up fourth followed by Jimmie Johnson and Jeff Green, the only other leader who gambled on changing two tires on the final stop. Green jumped from 13th to fourth after the final pit stop.
Local journalism is essential.
Give directly to The Spokesman-Review's Northwest Passages community forums series -- which helps to offset the costs of several reporter and editor positions at the newspaper -- by using the easy options below. Gifts processed in this system are not tax deductible, but are predominately used to help meet the local financial requirements needed to receive national matching-grant funds.
Subscribe to the sports newsletter
Get the day's top sports headlines and breaking news delivered to your inbox by subscribing here.
---