News > Spokane
Hoopfest delivers scrapes, bruises
Mon., July 2, 2007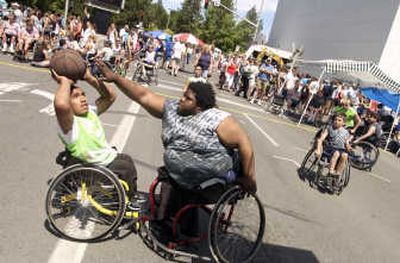 Bring thousands of athletes together for fast-paced street ball and many are bound to end up meeting folks like Dr. Tom Halvorson and first-aid volunteer Stefanie Bruno.
The pair helped staff Hoopfest's medical tents over the weekend, which treated about 1,100 injuries, including 16 athletes who suffered broken bones in the nation's largest 3-on-3 basketball tournament.
"We've seen more this year than we have in the past," said Bruno, who served as tent captain at the Premera Blue Cross first-aid tent outside River Park Square. Although Bruno said she's unsure why, she suspects as the days drag on and players get sluggish, they become more prone to injuries.
The bone fractures were set and the patients stabilized as doctors determined whether ambulances would be needed to transport them to hospitals. Most of the injuries were less severe, such as cuts and abrasions, and could be treated at the tents by the volunteer medical staff.
Halvorson, a physician at Rockwood Clinic, warned players to carefully monitor any persistent pain.
"Most aches and pains should go away, but if swelling continues they should get it checked out," said Halvorson, who volunteered for the first time.
Off the court, players and spectators kept police busy.
At least 50 motorists were arrested during the weekend for drunken driving, according to the Washington State Patrol and Spokane Police Department. That's about twice the number of arrests as on an average weekend, officials said. The WSP and other Spokane-area law enforcement agencies teamed up this year to provide aggressive DUI enforcement throughout the weekend.
Police broke up six to eight fights between competitors, said Spokane Police Officer Tim Moses, who added that officers also dealt with reports of several mostly minor hit-and-run auto accidents.
Meanwhile, others found the Riverfront Park fountain a great place to cool off.
"They're done playing for the day, so now they're just having some fun before our drive home," said Dewey Michaels, coach of a Kalispell, Mont., team.
Michaels' fifth- and sixth-grade division team went undefeated this year, which he said makes the four-hour drive worthwhile. He said after the boys splashed around in the fountain for a while, they were going to hit the road.
While some teams cooled off, others took part in cleanup efforts.
The Tumwater Thunder team, who went undefeated, peeled the tape from the street after their last game.
During the final games at the Nike Center Court when most of the evening crowd gathered to watch the final competitions, the cleanup efforts went into high gear.
"By the time these games are done, you won't know Hoopfest was here," said Lori Olson, Hoopfest operating committee member in charge of center court.
For a group of inmates, being outside on the streets to help dismantle Hoopfest was a break from their usual routine, said Andrew Vice, work crew officer.
"These guys don't mind; we bring out our best," said Vice.
Olson said the committee is already planning for next year's event, and so are players.
"I've heard people planning their team names, outfits and how they're going to win," Olson said.
Local journalism is essential.
Give directly to The Spokesman-Review's Northwest Passages community forums series -- which helps to offset the costs of several reporter and editor positions at the newspaper -- by using the easy options below. Gifts processed in this system are not tax deductible, but are predominately used to help meet the local financial requirements needed to receive national matching-grant funds.
Subscribe now to get breaking news alerts in your email inbox
Get breaking news delivered to your inbox as it happens.
---