News > Features
In-vitro birth at 60 sparks hot debate
Mon., July 2, 2007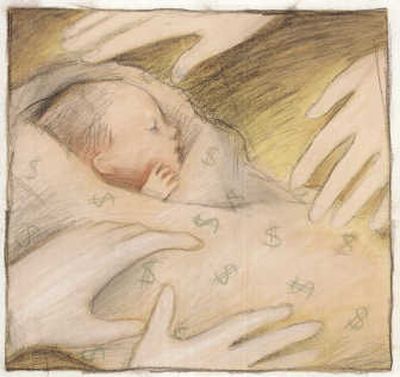 When 60-year-old Frieda Birnbaum gave birth to twins in May, it made headlines all over the nation, and sparked a flurry of posts on the Parents Council blog.
Debate waged between the "more power to her" camp and the "sounds like the beginning of a joke" crowd.
And in the midst of the discordant rhetoric, chords of common sense rang true.
When someone posted a message saying this was nothing new, she referred to the biblical Sarah's post-menopausal miraculous pregnancy. A member of the Parents Council replied, "I don't think Sarah used fertility drugs."
Others felt the real issue was, "What's the right age to be a parent?"
Spokane physician Edwin Robins, a reproductive endocrinologist, concurred that "age is pretty non-specific, no one's going to give you an age cut-off." But it is telling that Birnbaum underwent in-vitro fertilization at a clinic in South Africa. Doubtless she ventured overseas because she couldn't find a doctor in the U.S. to perform the procedure.
Robins said they don't even attempt IVF in women over 42 at the Center for Reproductive Endocrinology and Fertility in Spokane. "The success rate is so low – less than one percent in women over 42 using their own eggs," he said. He believes it's highly unlikely we'll see a trend of pregnancies in 60-year-old woman. "It's still going to be rare," he said.
However, older parents have much to offer children. I had my first child at 24 and my last at 34. I can say without a doubt my youngest son has the better mom. My husband and I often jokingly refer to our firstborn as our "practice child." The things we obsessed over with our oldest seem silly in retrospect. Potty training, for example. By the time Sam came along we realized no child started college in diapers and relaxed considerably.
But like many children born later in life, Sam is more indulged than his siblings. We're simply too tired to say "no" all the time. Eating cookies before dinner doesn't seem like much of an issue when we're grappling with curfews, dating and driving with his older brothers. I could never have imagined how emotionally exhausting teenagers can be. There's no more middle of the night feedings, but there's still plenty of sleepless nights. The bigger the child, the bigger the mistakes and the bigger the consequences that result.
How will Frieda Birnbaum handle it when it's hours past a 10 p.m. curfew and she doesn't know where her twins are – and she's almost 80 years old?
In an interview on the "Today" show she said, "The reason I'm doing this is to help other women. It's about women and empowerment. Age has been redefined."
Huh?
As Laurie Rogers said on the blog, "There's no glass ceiling for having children … society isn't dictating anything to her. It's the body that dictates limits on having children and on life itself."
Another parent agreed, saying, "Maybe she has twins, does a great job, lives to 112 and shows the world what? That's not redefining anything. That's just luck."
According to Dr. Robins, the average age of menopause is 51. In her quest to be a role model Birnbaum pushed pregnancy far beyond the normal dictates of age and reason. Had she never experienced the joys of pregnancy there'd be far less head scratching. But she has two grown children and a six-year-old son.
The joys of being alive include welcoming new seasons of life. Growing older may have its disadvantages, but its blessings beckon even more brightly. I don't want to miss out on any season of life – not even menopause – because I'm still clinging to the past.
In fact, I'd consider Birnbaum more of a role model if, instead of trying to stay on the baby track, she reveled in what she already has – a relationship with her 33-year-old son and 29-year-old daughter. She raised two healthy, productive adults; why not bask in that accomplishment?
Perhaps true empowerment comes from embracing each age and stage of life, not pursuing fertility like an elusive fountain of youth.
Local journalism is essential.
Give directly to The Spokesman-Review's Northwest Passages community forums series -- which helps to offset the costs of several reporter and editor positions at the newspaper -- by using the easy options below. Gifts processed in this system are not tax deductible, but are predominately used to help meet the local financial requirements needed to receive national matching-grant funds.
Subscribe now to get breaking news alerts in your email inbox
Get breaking news delivered to your inbox as it happens.
---