News > Nation/World
Leahy: Criminal citation possible in Justice fight
Mon., July 2, 2007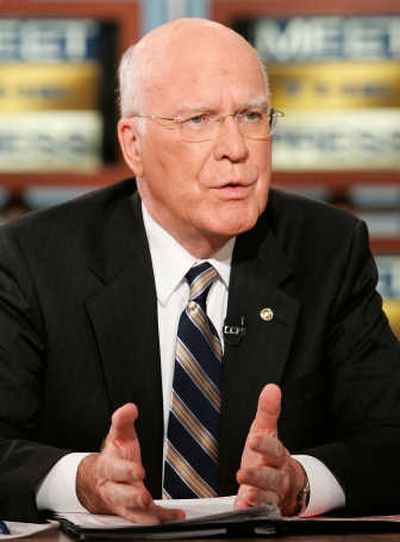 WASHINGTON – The chairman of the Senate Judiciary Committee said Sunday that he will attempt to cite the White House for criminal contempt of Congress if it does not turn over documents related to the firing of nine federal prosecutors.
"If they don't cooperate, yes, I'd go that far," Sen. Patrick Leahy, D-Vt., said on NBC's "Meet the Press."
Leahy's comments raise the stakes in a growing conflict between the Democrat-controlled Congress and the Bush White House, suggesting the constitutional clash might end up in a court case that could last beyond Bush's tenure as president.
Congressional investigators want testimony, internal e-mails and other documents to clarify what role Bush's senior staff played in the Justice Department's removal of nine prosecutors last year. The firings have triggered bipartisan calls for Attorney General Alberto Gonzales to resign.
The White House has refused, asserting executive privilege, a claim invoked since George Washington to mean that the separation of powers embodied in the Constitution allows each branch to operate from the control or supervision of the others.
"The bottom line on the U.S. attorneys investigation is that we have people manipulating law enforcement," Leahy said. "Law enforcement can't be partisan."
Local journalism is essential.
Give directly to The Spokesman-Review's Northwest Passages community forums series -- which helps to offset the costs of several reporter and editor positions at the newspaper -- by using the easy options below. Gifts processed in this system are not tax deductible, but are predominately used to help meet the local financial requirements needed to receive national matching-grant funds.
Subscribe now to get breaking news alerts in your email inbox
Get breaking news delivered to your inbox as it happens.
---