News > Nation/World
Missing soldier's wife can stay in U.S
Mon., July 2, 2007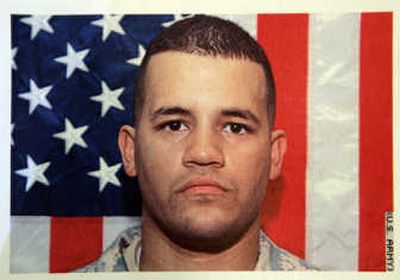 BOSTON – A woman whose soldier husband is missing in Iraq has gotten her green card after authorities threatened to deport her for entering the U.S. illegally.
Yaderlin Hiraldo Jimenez walked out of a Citizenship and Immigration Services office in Buffalo, N.Y., on Friday with her permanent residency papers, her lawyer said.
"She was moved to tears," attorney Matthew Kolken, who accompanied his client, told the Boston Globe for Sunday's editions.
"Her immigration problems have been solved in their entirety and now her focus is completely dedicated to her hope and desire that she's going to see her husband again," Kolken said.
Army Spec. Alex Jimenez, of Lawrence, Mass., has been missing since his unit was attacked in Iraq on May 12.
His wife illegally entered the U.S. from the Dominican Republic in June 2001, paying $500 to a smuggler and walking three days from Mexico to California. The couple were married in 2004.
Jimenez's request for a green card and legal residence status for his wife alerted authorities to her situation.
She has been living in Pennsylvania and had been facing deportation but an immigration judge put a temporary stop to the proceedings after Jimenez was reported missing.
Last month, Department of Homeland Security Secretary Michael Chertoff said his agency would end the deportation case. He said in a letter to Sen. John Kerry, D-Mass., that "the sacrifices made by our soldiers and their families deserve our greatest respect."
Kolken said his client hopes to apply for citizenship and to attend college.
"She commented about how much she loved this country," Kolken said.
On Friday, the Pentagon changed the status of Jimenez and a comrade, Pvt. Byron Fouty, 19, of Waterford, Mich., from "whereabouts unknown" to "missing/captured."
The change reflects an official determination that the two were seized by hostile forces, but it does not mean the military has gained any new information about their whereabouts.
An Iraqi insurgent group claimed in a video posted on the Internet last month that the missing soldiers were killed and buried, but offered no proof they were dead.
Local journalism is essential.
Give directly to The Spokesman-Review's Northwest Passages community forums series -- which helps to offset the costs of several reporter and editor positions at the newspaper -- by using the easy options below. Gifts processed in this system are not tax deductible, but are predominately used to help meet the local financial requirements needed to receive national matching-grant funds.
Subscribe now to get breaking news alerts in your email inbox
Get breaking news delivered to your inbox as it happens.
---