News > Features
Too much tubing can stunt kids' social development
Mon., July 2, 2007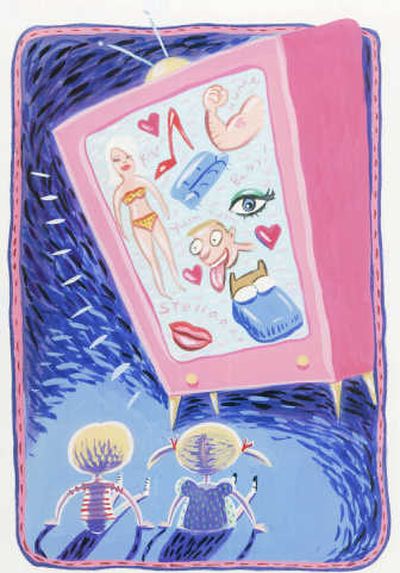 TOKYO – Children who watch a lot of TV have more difficulty developing social skills that result from interacting with others, such as being able to compromise or waiting their turn, according to a Japanese survey on how TV watching affects child development.
The survey was conducted by Hyogo University of Teacher Education and other institutions through questionnaires to parents of 3-year-old children.
In early 2005, questionnaires were sent to parents of 2,035 children, born in August or September in 2001, in Kurashiki, Okayama Prefecture. The parents of 1,180 children completed the questionnaires from February through April that year, when their children were at least 3 years old.
The children were divided into three groups based on the number of hours they watched TV or videos – those who spend less than two hours, those spending two to four hours and those who spend more than four hours.
Of those who spent less than four hours watching TV, 96.3 percent shared sweets with friends or lent toys to others, the survey found. However, 80.2 percent of children who spend four hours or more watching TV were willing to compromise.
The survey found that 95.1 percent of the group that watched less than two hours of TV were willing to wait their turn to get on a swing, compared with 96.3 percent of the group who watched two to four hours of TV, and 76.5 percent of the group who spent more than four hours in front of a TV.
Eighty-four percent of children who watch less than two hours of TV, 86.4 percent of those who watch for two to four hours and 60.5 percent of those who watch more than four hours were able to look after others.
Aki Kano of Hyogo University of Teacher Education, who is currently at Sonoda Women's University, pointed out that watching too much TV reduced children's chances to associate with others.
In 2004, the Japan Pediatric Society advised parents to prevent children aged 2 and younger from watching too much TV. The recommendation came after its survey showed excessive TV watching could slow down children's language development abilities.
"The current survey reinforces the idea – that spending too many hours watching TV can seriously affect children's development and advises families to turn off the TV during meals and take other steps to reduce TV watching," said Yoshiki Seino, director of Osaka Koseinenkin Hospital.
Local journalism is essential.
Give directly to The Spokesman-Review's Northwest Passages community forums series -- which helps to offset the costs of several reporter and editor positions at the newspaper -- by using the easy options below. Gifts processed in this system are not tax deductible, but are predominately used to help meet the local financial requirements needed to receive national matching-grant funds.
Subscribe now to get breaking news alerts in your email inbox
Get breaking news delivered to your inbox as it happens.
---