News > Home
CDA garden tour on Sunday
Tue., July 3, 2007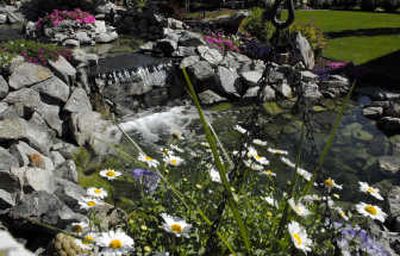 A drive along Woodstone Avenue, in Hayden's Forrest Hills neighborhood, reveals a number of stately homes with impressive gardens.
Dan and Lezlee Mattison have what is likely the pinkest.
There are pink geraniums and pink roses, pink rhododendrons, several pink dappled willows and even a tricolor beech that blazes with deep pink variegated leaves. The pink spectrum is covered. Add splashes of white and purple to a canvas swathed in shades of green foliage, and the result is a refreshing take on a "country French" style garden.
Area gardening fans will have the chance to see the Mattisons' work when the home joins the 10th Annual Coeur d'Alene Garden Club Garden Tour on Sunday. Five other gardens in the Coeur d'Alene-Hayden area of various sizes, styles and vintages, will also be part of the self-guided tour.
The Mattisons' latest garden effort is only three years old. That's when the longtime Hayden residents moved into their Woodstone home. The lot was bare, save for a few pine trees.
"We started from scratch," Lezlee Mattison said. "It's always a work in progress."
That work has involved extensive plantings in the front, back and side yards, and some impressive stone work. A small garden bed on the side of the house next to the driveway is home to the couple's small water feature, a bubbling rock. They bought a large rock and had a hole drilled out of the middle to install a waterworks, creating a quiet, small garden space that seems perfect for contemplation.
The route to the backyard is marked with a stately Swedish aspen, which Dan Mattison prefers to the more popular – and prone to spread – quaking aspens. From here, you enter the backyard, spying tamarack, pines, and an array of flowers and shrubs, including several spirea bushes.
"I'm a fan of spirea, can't you tell?" Dan Mattison said.
The L-shaped space is dominated by a large berm, planted with pines, birches and flowers. A trek to the front of the mound reveals a tri-level stone water feature, ending in a deep, clear pond that's easily 4 feet deep.
"There's my hot tub," Dan Mattison joked, adding that on hot summer days, he's been known to take a seat in the cool water.
Nearby, a path leads from the house out to a circular patio perfect for entertaining. The surrounding yard is planted with roses, oaks, a butterfly bush, hydrangeas, flowers, more flowers and that tricolor beech.
"When (the leaves) come out fresh in the spring, it's really neat," Dan Mattison said.
The leaves now feature a pink border surrounding a green center. As the summer progresses, the pink will go darker, he added.
As gardeners know, a yard is never done. There's pruning, replacing and any number of jobs to keep one busy. Lezlee Mattison's the same way.
"I can't not add new things," she said. "I want to do something all the time.
It probably helps that her husband owns a landscaping company. But Dan Mattison is quick to give credit where it's due – to his wife.
"She does all the hard work," he said. "I just maintain it."
Local journalism is essential.
Give directly to The Spokesman-Review's Northwest Passages community forums series -- which helps to offset the costs of several reporter and editor positions at the newspaper -- by using the easy options below. Gifts processed in this system are not tax deductible, but are predominately used to help meet the local financial requirements needed to receive national matching-grant funds.
Subscribe to the Coronavirus newsletter
Get the day's latest Coronavirus news delivered to your inbox by subscribing to our newsletter.
---
Subscribe and log in to the Spokesman-Review to read and comment on this story