News > Voices
Spokane wines score top ratings
Thu., July 5, 2007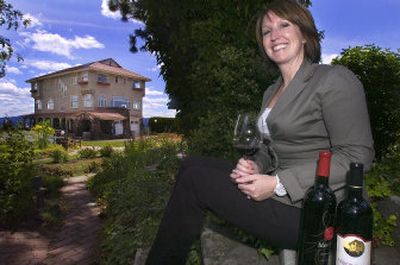 Spokane wineries have continued their winning ways in recent weeks, earning high marks for three wines from a prestigious national publication.
Winemaker Kristina van Loben Sels of Arbor Crest winery scored a pair of 91 ratings from Wine Spectator Magazine for her 2002 Dionysus blend done in the Bordeaux style and her 2003 Klipsun Vineyard cabernet sauvignon.
Mike Scott, winemaker at Lone Canary Winery, received a 90 rating for his 2004 Columbia Valley merlot in the highly regarded magazine ratings.
All three wines are considered good examples of the best in Washington wines, and ratings of 90 or above on the 100-point scale typically boost sales and draw national attention.
Previously, Grande Ronde Cellars of Spokane won similar scores for three successive vintage releases.
"We're very proud, very excited," van Loben Sels said. "It's a big deal."
The Dionysus blend is Arbor Crest's top-of-the-line red, having been produced since 1995. Van Loben Sels and her viticulturalist husband, Jim van Loben Sels, took over the family-owned operation in 1999.
The heart and namesake of the Dionysus comes from cabernet sauvignon grapes grown in the 35-year-old Dionysus Vineyard near Pasco along the Columbia River. The cabernet sauvignon was blended with smaller amounts of merlot and cabernet franc, including grapes from the Conner Lee Vineyard near Othello, Wash. Aged for three years in French oak barrels, production totaled 750 cases.
"It's my baby, and I love making it each year," Kristina van Loben Sels said, explaining that blending is "really where the art of winemaking comes in."
Future releases of Dionysus will include petite verdot and malbec, making it a truer Bordeaux-style wine with all five Bordeaux grapes included.
While the 2002 Dionysus retails at around $45, van Loben Sels said the price offers value "for what goes into that thing." Similar high-end Washington wines sell for more, in part because of increasing production costs. Some of the grapes van Loben Sels uses for her top wines cost $3,500 a ton.
Wine Spectator's reviewer described the Dionysus as "firm in texture and expressive, with polished sweet spices lending interest to the currant and plum flavors," which are typical of Bordeaux wines.
The magazine was equally complimentary of the 2003 Klipsun cabernet, made mostly with grapes from one of the three oldest vineyards in the acclaimed Red Mountain viticultural area near Benton City, Wash., planted in 1984.
The reviewer called the Klipsun "very refined" and "youthful, round and distinctly spicy, with nutmeg and cinnamon overtones to the ripe currant and blackberry flavors. It all lingers very effectively as the finish persists without weight."
Van Loben Sels used all French oak with just less than half of it new for both the Dionysus and Klipsun. The Klipsun remained in barrels for 20 months. It includes 15 percent merlot for balance. The production was 290 cases.
Van Loben Sels said she plans to continue bottling the single-vineyard Klipsun cabernet for the 2005 and 2006 vintages.
A winemaking graduate of the University of California at Davis, she worked at Ferrari-Carano Vinyards and Winery in California for several years. Arbor Crest now produces 40,000 cases a year.
Van Loben Sels said the dry, typically favorable summer weather in Eastern Washington plays a big role in the quality of the region's wines. "I love that we have these consistent vintages, that we have this great fruit," she said.
At Lone Canary, Scott has been making wine for four years. This is the first time Wine Spectator has rated any of his products.
He said that earning a 90 for his merlot shows that "certainly for Washington state, it's a graceful, complex thing," unlike the overly soft, flabby merlots that earned Miles' derision in the movie "Sideways."
"Washington merlots have more in common with their French heritage," where merlot is used as a principal grape in Bordeauxs. His 2004 merlot not only has bright blackberry and cherry flavors but also includes hints of cocoa and white pepper, according to the magazine.
But Scott said its complexity also gives off an earthy flavor reflective of the Willard and DuBrul vineyards where its grapes were grown.
"This has some really good pedigree in it," he said. "You can almost taste a cocoa dust in it."
The wine is a shift in philosophy for Scott, who previously produced several blended reds using merlot and other red-wine grapes.
Scott got his start in the winemaking business at the former Worden Winery in 1980 and worked for other local vintners before launching his own operation at Lone Canary, 109 S. Scott St., with partner Steve Schaub. He produces about 4,000 cases a year in eight different wines.
Primary fermentation in the 2004 merlot was done at Apex Cellars in Sunnyside, Wash., under Scott's direction. Then it was brought to Spokane for secondary fermentation and 18 months of barrel aging with 85 percent French oak and 15 percent Hungarian oak.
The finished product, he said, shows the best qualities of merlot in Washington. "There's a huge amount of letting the wine show itself," he said.
Local journalism is essential.
Give directly to The Spokesman-Review's Northwest Passages community forums series -- which helps to offset the costs of several reporter and editor positions at the newspaper -- by using the easy options below. Gifts processed in this system are not tax deductible, but are predominately used to help meet the local financial requirements needed to receive national matching-grant funds.
Subscribe now to get breaking news alerts in your email inbox
Get breaking news delivered to your inbox as it happens.
---