News > Voices
Traditional, alternative medicine share space in clinic
Thu., July 5, 2007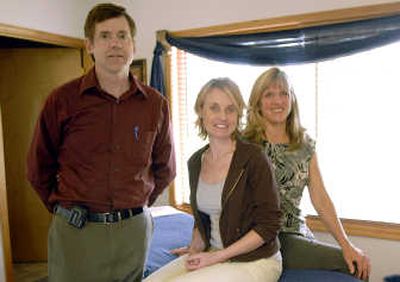 Thailand was an unlikely place for an Australian and an American to meet, but that's where Dr. Michael Whiting and Sue, his wife-to-be, first recognized what they had in common.
Their adventure in 1983 to teach English and Bible studies to foreign students resulted in marriage and two children.
Over the years, the two discovered their mutual love of boating, water skiing and Idaho's lakes. And since opening Rathdrum Clinic Family Practice and Massage Therapy in 2003, the couple find even more opportunity to spend time together.
"We thought it would be nice to share a common space," Michael Whiting said.
Whiting is a board-certified family practice physician; his wife is the office manager and massage therapist at the Rathdrum Clinic.
From the main entrance, the clinic appears like a typical doctor's office, complete with health pamphlets, straight-backed chairs and a hallway to the examination rooms.
The clinic sees patients from children to senior citizens; the staff includes a physician's assistant who assists with women's health and general family practice.
But step through the clinic's side entrance, and a cozy sitting area awaits with a comfortable sofa and cushioned chair. Behind closed doors are padded massage tables, heated stones, herbal oils and infrared heat lamps.
Despite the unconventional office design, Michael Whiting practices traditional medicine and claims he hasn't indulged in any of the massage or spa treatments offered by his wife.
Whiting graduated from Loma Linda University School of Medicine in 1989 and continued his training as a captain in the U.S. Air Force. He completed his family practice residency in 1992 and served four more years in the Air Force, attaining the rank of major. He did tours of duty in Korea and Montana before settling into civilian life in Walla Walla.
He and his family relocated to North Idaho in 2000.
Michael Whiting says he does not consider himself to be a naturopath, but he does believe in offering treatments that have been shown to be effective, such as massage.
"I try to treat the whole patient, to consider everything that's impacting the condition and offer alternatives to traditional treatment," he said.
The physician's philosophy meshes with his wife's belief that a combination of therapies often is what's needed.
A native Australian, she experienced the benefits of her homeland's "physiotherapists" after an accident. Their treatment combined what a physical therapist, masseuse and chiropractor might offer in United States and included massage, ultrasound and manipulations.
Her training as a teacher wasn't accepted in the United States, so she was looking for another way to offer help. She and a friend, Jo Kidd, who also works at the Rathdrum Clinic, took classes at Post Falls' American Institute of Massage and graduated in 2003.
"I wanted to help women, and I wanted to have women feel special," she said. "Women tend to take care of everybody but themselves."
Of course, their services are available for men, too, and include spa treatments with paraffin or mud wraps and salt scrubs. Besides the relaxing total body Swedish massage, the clinic specializes in medical massage, which focuses on a particular area of pain or injury. The technique often concentrates on joints, such as the shoulders, knees and hips.
"The idea is to get new blood into the areas so you can promote healing," Sue said.
About half of her clients are referred from her husband's family practice, while the rest come on their own, either through referrals by someone else or through the Yellow Pages.
Michael Whiting said he tries to be sure patients feel no pressure to use the clinic's massage services and lets them know they have choices.
But the benefits of using their clinic, he said, are the reasonable prices and therapists who are licensed and nationally certified in medical massage.
Idaho does not require massage therapists to be licensed, but Sue decided to be tested in Washington so she would have a license. She and Kidd received additional training to practice medical massage.
Whiting says massage is becoming more "mainstream" and is considered less often as an "alternative" treatment. Still, not every insurance plan pays for it.
Whiting notes that the cost of deductibles for physical therapy may be higher than paying for medical massage out of pocket.
The Rathdrum Clinic charges $35 for initial evaluation and 45-minute medical massage, and followup visits may cost less. Frequent clients can take advantage of a discount card.
"We thought it would be a complement for family practice, for patients who had a need for physical therapy but couldn't afford it," Michael Whiting said. "It's an option for people."
Whiting says massage treatments are particularly helpful for patients with muscle aches, stiffness, soreness and tendonitis. People who have suffered whiplash, shoulder injuries and accidents involving the back and neck make good candidates.
"No modality helps everyone, but I see the effectiveness to be as good as the other modalities," Whiting said.
Local journalism is essential.
Give directly to The Spokesman-Review's Northwest Passages community forums series -- which helps to offset the costs of several reporter and editor positions at the newspaper -- by using the easy options below. Gifts processed in this system are not tax deductible, but are predominately used to help meet the local financial requirements needed to receive national matching-grant funds.
Subscribe now to get breaking news alerts in your email inbox
Get breaking news delivered to your inbox as it happens.
---