News > Features
People: He and she will become 'oui'
Fri., July 6, 2007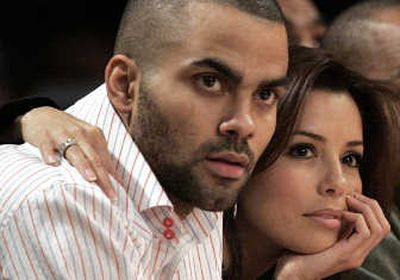 It's official: "Desperate Housewives" star Eva Longoria will marry pro basketball player Tony Parker on Saturday in his native France.
A French official confirmed Thursday that the couple had chosen Vaux-le-Vicomte, a 17th-century chateau 34 miles southeast of Paris, as the venue for their wedding festivities.
While details are scarce, Longoria's spokeswoman said the wedding will be "a big, happy ceremony with lots of family and friends."
Parker had said the cake would be made in France but refused to say much more, telling reporters that organizing a wedding is "a girls' thing."
The privately owned chateau near the village of Maincy is shielded from prying eyes by 8 miles of high stone walls.
A small army of guards is expected to lock down the sprawling, 1,235-acre grounds, and a public road leading to the chateau may be sealed off.
Guests reportedly will include Longoria's "Desperate Housewives" co-stars, teammates from Parker's San Antonio Spurs, Victoria Beckham and other celebrities.
Baby on board
Nicole Richie reportedly is planning a summer wedding with Good Charlotte singer Joel Madden, which may have something to do with the fact that she's pregnant.
Her condition conceivably could spare Richie from a jail sentence when she goes on trial for DUI next week.
Under California law, as a repeat offender, she would ordinarily get a minimum sentence of five days – and a maximum of up to 12 months – if convicted.
Split decisions
On the flip side of the celebrity matrimonial scene, "Jackass" star Johnny Knoxville (real name: Philip John Clapp) has filed for divorce from his wife of 12 years.
And the wife of "Whose Line Is It Anyway?" comedian Wayne Brady is officially seeking to end their marriage. The couple wed in 1999, but separated in April 2006.
Going east for young men?
Michael Jackson has been hunting for real estate on Maryland's Eastern Shore as he searches for a vacation home, his publicist says.
"He's always admired the properties on the East Coast because they have a lot of land," the spokeswoman says. "Neverland has 3,000 acres – he likes privacy. You can't find as many properties like that on the West Coast."
Want a steak? Just pretend
Rocker Chrissie Hynde is opening a vegetarian restaurant in her hometown Akron, Ohio, called VegeTerranean.
Hynde, lead singer of the Pretenders, will give a free concert at the grand opening of the upscale eatery on Sept. 15.
The restaurant will feature meatless Mediterranean and other cuisine.
The birthday bunch
Talk show host Merv Griffin is 82. Actress-singer Della Reese is 76. Actor Burt Ward ("Batman") is 61. Actor Sylvester Stallone is 61. Actor Geoffrey Rush is 56. Actress Shelley Hack is 55. Singer Nanci Griffith is 54. Rapper 50 Cent is 31. Actresses Tia and Tamera Mowry ("Sister, Sister") are 29. Actor Jeremy Suarez ("Bernie Mac") is 17.
Local journalism is essential.
Give directly to The Spokesman-Review's Northwest Passages community forums series -- which helps to offset the costs of several reporter and editor positions at the newspaper -- by using the easy options below. Gifts processed in this system are not tax deductible, but are predominately used to help meet the local financial requirements needed to receive national matching-grant funds.
Subscribe now to get breaking news alerts in your email inbox
Get breaking news delivered to your inbox as it happens.
---