News > Spokane
A little Vietnam on Sprague
Sun., July 8, 2007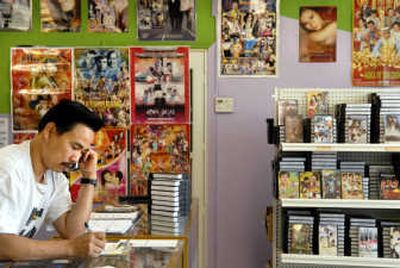 To the undiscerning eye, the video store on East Sprague looks like any other – a shelf of new-release DVDs behind the counter, flat-screen TV blaring to no one in particular, and walls of videocassettes and CDs with impassioned-looking artists on their covers.
Look closer. There's no English. Kiêu Mi is the only store in Spokane that caters entirely to Vietnamese.
Owner Kim Tran, 39, might sell more telephone cards than Vietnamese videos these days, but this little store between an abandoned jewelry shop and an assortment of pawn depots displays more than a range of ethnic movies. The store behind a white gate serves a community that often goes unnoticed. The U.S. Census Bureau estimates that about 1,000 Vietnamese-Americans live in Spokane. Tran and others believe the community has doubled since that census was taken seven years ago.
A recent funeral for an 88-year-old Vietnamese woman packed a church that holds 200.
The video store's history is shorter than most of the movies it stocks, admitted Tran, who has owned the shop for a little more than a year.
"In this town, the community here after they work, they enjoy a movie," he said, pointing to a shelf of sagas in the style of "Gone with the Wind."
"I am the only store so I can make some money, but not a lot," he added.
Tran took over after the previous owner left the area after running the shop at 1191 1/2 E. Sprague for seven years. He thought the niche market would entice business and, while not as lucrative as the Asian grocery store down the block, it does provide enough income to allow him to "work by myself."
Visitors must ring the doorbell to enter the shop. Customers trickle in, often to buy $5 phone cards made for Vietnam. The shop also does money transfers.
"I come here a couple of times a week," said Thanh Mai, 29, a Vietnamese woman who arrived three months ago. Speaking through a translator, Mai, who recently took over a nail shop, said the video shop and grocery store are her only links to Vietnam. She joked with Tran as she glanced at the newest pop titles, some of the artists a cross between Asian Backstreet Boys and soft-rock crooners.
"This business is very popular in California and Seattle," said Tran as he pulled a well-known Vietnamese artist out of a pile of CDs for Mai. "But it's OK in this town."
Southern California has one the largest populations of Vietnamese in the country, and Seattle has a substantial community. Vietnamese are the second-largest Asian ethnic group in Spokane County after Japanese, according to a 2004 report by researchers at Eastern Washington University.
If not escaping California or Seattle for cheaper housing, Vietnamese who arrive in Spokane these days are often like Mai, who moved here directly from her native country to live with her husband and open a business. While a cluster of immigrants arrived in the early 1980s and were known as "boat people," most of Spokane's Vietnamese community came in the early 1990s. At that time, partly because of U.S. requirements, refugees often fell into one of two categories. They were either families with Amerasians, as the children of Vietnamese mothers and American GI fathers were called, or former officers in the South Vietnamese army forced to undergo re-education programs when the communist regime took power.
Helen Nguyen, 51, used to work for the United States Catholic Conference that sponsored much of Spokane's Vietnamese population. Nguyen said the increasing number of manicure businesses and scattering of noodle shops suggest an unquantifiable community that is reinforced by the all-Vietnamese video store.
"The community is growing because people are coming here for job opportunities" from the larger Vietnamese-populated areas, agreed the Rev. Jo Hiên, the Vietnamese priest at St. Anthony's Church, which holds Vietnamese Masses every second and fourth Sunday. Hiên said he has witnessed an influx of attendees.
Yet, unlike the previous migrations that came to the United States in three distinct waves, Hiên said, in recent years the number of new residents generally balances out those who are leaving. "They make money for a few years and then go out again," he said, or second-generation Vietnamese leave for college and more lucrative careers elsewhere.
Tran said his brother-in-law lives in Portland because he found a higher-paying job there as an industrial engineer. But he also sees new customers float in and out, often seeking a comfortable reminder of home.
Sometimes he sees no one all day. "People are so busy here, they work all the time," he said.
It's an excuse Rosa Trinh, 25, the Spokane Valley owner of N 4 U Nails, gives as well. "In Seattle, people have time, but here we work seven days a week," said the former Seattle resident, who has run a nail shop and training academy for two years. It's difficult to run a business in a town with a smaller Vietnamese population, said Trinh. There are not the same support networks or population to serve, so they end up working longer hours. "There's no time anymore and no specific place to go, so friends just come over," she said.
Along with the Catholic congregation, a Vietnamese Buddhist temple has 40 paying members and a youth group, but there's no nonreligious meeting place for the community.
Ninety percent of the Asian community shops at Bay Oriental Market, according to owner Van Chiu, but that includes Filipino, Thai, Hmong, Chinese and Japanese immigrants.
Tran and his family know the market well. Tran's half-sister is Amerasian, which allowed him to accompany part of his family to the United States in 1991. Tran's wife arrived in 1993 with her family because her father had been part of the South Vietnamese army and spent more than three years in a re-education camp.
"Most people open shops because they lived here so long and now they can do business," he said.
If Tran's store is a gauge of the Vietnamese who reside in Spokane, the entrepreneur is also realistic. "I would like to have American customers too," he said. He hopes to expand the shop into more of a convenience store. "I live in America now. I'd make more money with more customers."
Local journalism is essential.
Give directly to The Spokesman-Review's Northwest Passages community forums series -- which helps to offset the costs of several reporter and editor positions at the newspaper -- by using the easy options below. Gifts processed in this system are not tax deductible, but are predominately used to help meet the local financial requirements needed to receive national matching-grant funds.
Subscribe now to get breaking news alerts in your email inbox
Get breaking news delivered to your inbox as it happens.
---