Sports
McMurray wins Pepsi by a nose
Sun., July 8, 2007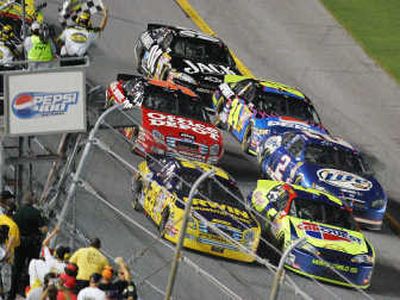 DAYTONA BEACH, Fla. – Jamie McMurray made a costly mistake early, a dramatic move late and ended a long day of racing in a somewhat unfamiliar spot – Victory Lane.
McMurray ended a 166-race winless streak in dramatic fashion, rallying from 35th after an early penalty for driving below the yellow line to set up a drag race with Busch to the finish of Saturday night's Pepsi 400.
The two raced side by side for much of the final two laps around Daytona International Speedway, and McMurray nosed across the finish line a mere 0.005 seconds ahead of Busch, who received no help from his Hendrick Motorsports teammates in the closing moments.
It was his first win since October 2002 at Charlotte, when he set a NASCAR record by winning in his second career start. He was a replacement driver for injured Sterling Marlin at the time.
"I always said for five years, however long, there would never be another victory like Charlotte," McMurray said in an emotional Victory Lane. "And you wait so long to win. Every driver out here can tell you how special it is. I started crying, and I'm like, 'Why are you crying?' Because I was so happy. Celebrating."
The victory ended the fourth-longest losing streak in NASCAR history. Bill Elliott held the record at 226 races between wins, followed by Jeff Burton (175) and Marlin (170).
The significance was not lost on McMurray, who was later embarrassed about his emotional celebration but said it was warranted after a difficult four seasons of losing.
"Here's the deal: You work very hard for something and I don't know that there's anyone out there that's went from the season that I had to winning Daytona – and that's an emotional time," he said. "It's hard to explain to somebody that feeling of not only seeing your team work so hard but also you.
"I worked really hard this year to get my mind and my body (right). When you work out every day and you do all that stuff and you're not winning … you almost taste it. It's a little bit emotional. You work so hard for something and then you get it. It's hard to explain to somebody the feeling that you have."
McMurray denied Busch a shot at a rare double victory – he won the rain rescheduled Busch Series race 12 hours earlier, while McMurray finished 18th. Busch then blamed a lack of cooperation from his Hendrick Motorsports teammates for failing to help him win the race.
"There were a few opportunities for them to get behind me and push me," Busch said. "Especially (Jeff Gordon), he chose not to do so and stayed up high and helped another Roush car."
Kurt Busch finished third and was followed by Carl Edwards, Gordon and Greg Biffle. Clint Bowyer, Matt Kenseth, Kasey Kahne and Jimmie Johnson rounded out the top 10.
Tony Stewart was denied a chance to climb the fence for a third consecutive year when he wrecked with teammate Denny Hamlin as the two were leading the race just 14 laps in. Stewart, the two-time defending race winner, finished 38th and Hamlin was last in 43rd.
"We've got two guys who are very competitive, running up front, we've got real good cars and this is something that can happen," team owner Joe Gibbs said. "It's just one of those unfortunate things."
Busch thought his situation was unfortunate as he pondered his second-place finish while McMurray celebrated.
The four Hendrick drivers – Busch, Gordon, Johnson and Casey Mears – were all at the front late in the race and had to pick and choose their spots on the track.
But Busch often seemed to be on his own, as Johnson and Gordon took turns lining up behind Mears when he was leading, then working together on the outside as Busch stayed low.
So Busch wasn't surprised when he had no help getting past McMurray on the final two laps, and he said he "got blown off" by Gordon when he tried to congratulate him on Victory Lane.
"I guess I'm on the outside looking in now," Busch said. "I'm probably not going to be invited to the team meetings next week. I think bliss is over at Hendrick Motorsports for Kyle Busch. We're getting ready for 2008."
Older brother Kurt tried to put the situation in perspective.
"At the end of a race, a restrictor-plate race, you don't have any teammates," Kurt Busch said. "The advice I would offer to Kyle is understand you are out their working as your own individual."
Local journalism is essential.
Give directly to The Spokesman-Review's Northwest Passages community forums series -- which helps to offset the costs of several reporter and editor positions at the newspaper -- by using the easy options below. Gifts processed in this system are not tax deductible, but are predominately used to help meet the local financial requirements needed to receive national matching-grant funds.
Subscribe to the sports newsletter
Get the day's top sports headlines and breaking news delivered to your inbox by subscribing here.
---