News > Nation/World
3-year-old hungry but fine after kidnapping ordeal
Mon., July 9, 2007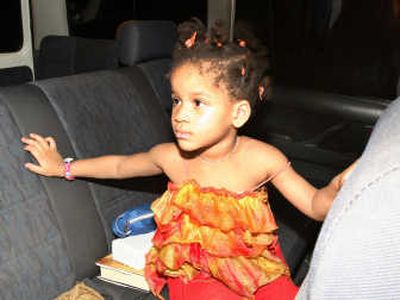 PORT HARCOURT, Nigeria – A British child was released by gunmen in southern Nigeria on Sunday and reunited with her parents, who said she was fine but hungry and covered in mosquito bites.
Mike Hill, the father of 3-year-old Margaret Hill, told Sky News by telephone that no ransom was paid. His daughter could be heard in the background as he spoke.
"She's coming alive all the time. … She was in a bit of a trance when we first got her back," he said. "I don't think she's had very much to eat, because she's hungry now," he added. "She's covered in mosquito bites. The bites are really bad."
The girl told the Associated Press by phone that she was "fine" and happy to see her mother.
"She looks well and she is in very good spirits," state government spokesman Emmanuel Okah said as the child laughed in the background.
In Britain, Foreign Secretary David Miliband thanked those who worked to secure her release.
"I was delighted and relieved to hear of Margaret's release," he said. "I am grateful to the Nigerian authorities for all their help, and I hope the perpetrators will be swiftly brought to justice."
Gunmen seized Margaret while the car taking her to school idled in traffic Thursday in Port Harcourt, an oil industry center.
Her Nigerian mother, Oluchi Hill, had previously said the abductors had contacted her and demanded an unspecified ransom for Margaret's release. She had also said her daughter was being fed only bread and water, and that the gunmen threatened to kill the girl if the parents did not meet their demands – including one that the father take his daughter's place.
Her father has lived in Nigeria for years and works in the energy industry. He also runs a popular nightspot in Port Harcourt.
It was the first abduction of a foreign child in the increasingly lawless oil region of Africa's biggest oil producer.
Margaret, whose driver was stabbed as he tried to shield her during the attack, is the third child to be seized in six weeks. The other two victims, both released unharmed after a few days in captivity, were the children of prominent Nigerian families.
Local journalism is essential.
Give directly to The Spokesman-Review's Northwest Passages community forums series -- which helps to offset the costs of several reporter and editor positions at the newspaper -- by using the easy options below. Gifts processed in this system are not tax deductible, but are predominately used to help meet the local financial requirements needed to receive national matching-grant funds.
Subscribe now to get breaking news alerts in your email inbox
Get breaking news delivered to your inbox as it happens.
---