News > Nation/World
Kamikazes get new life among Japan's right
Mon., July 9, 2007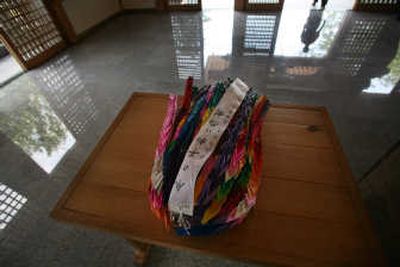 CHIRAN, Japan – On April 12, 1945, Lt. Shinichi Uchida faced a terrifying mission – crash his plane into a U.S. warship. But the young kamikaze's final letter to his grandparents was full of bravado.
"Now I'll go and get rid of those devils," the 18-year-old wrote shortly before his final flight, vowing to "bring back the neck" of President Roosevelt. He never returned.
For many, such words are redolent of the militarism that drove Japan to ruin in World War II. But for an increasingly bold cadre of conservatives, Uchida's words symbolize something else: just the kind of guts and commitment that Japanese youth need today.
Long a synonym for the waste of war, the suicidal fliers are being glorified in a film written by Tokyo's governor, Shintaro Ishihara, a well-known nationalist and co-author of the 1989 book "The Japan that Can Say No." And a museum about the kamikazes in the southern town of Chiran, near the airstrip where Uchida and others took off, gets more than 500,000 visitors a year.
"The worries, sufferings and misgivings of these young people … are something we cannot find in today's society," Ishihara said when his movie "I Go to Die For You" opened this spring.
"That is what makes this portrait of youth poignant and cruel, and yet so exceptionally beautiful," he said.
No one is publicly calling for young Japanese to kill themselves for the nation these days. But the renewed hero worship of the kamikazes coincides with a general trend in Japanese society toward seeing the country's war effort as noble, and mourning the fading of the ethic of self-sacrifice amid today's wealth.
The government has stepped up efforts to expunge accounts of Japanese atrocities from history books and reinstate patriotic instruction in the public schools. Prime Minister Shinzo Abe, like his predecessor, Junichiro Koizumi, is pushing to revise the pacifist constitution.
The estimated 4,000 kamikaze – or "divine wind" – pilots were named after a legendary typhoon that foiled the Mongol emperor Kublai Khan's invasion of Japan in 1281. Chiran museum officials say as many as 90 percent failed to reach the U.S. warships they were meant to attack.
Despite the pilots' reputation abroad as suicidal fanatics, Japanese hearts have always had a soft spot for the kamikazes. Long celebrated in movies, books and comic books, the pilots are seen as innocent young men forced by a desperate military into sacrificing their lives to protect their country.
Some see peril in the trend.
"It's extremely dangerous to glorify the kamikaze pilots as tragic heroes. The people who glorify them want to connect the prewar period with the present and future Japan," said Atsushi Shirai, a historian who has written about the pilots.
"These views also block critical analysis of the tragedy of the war, what it signified and why it was carried out."
Local journalism is essential.
Give directly to The Spokesman-Review's Northwest Passages community forums series -- which helps to offset the costs of several reporter and editor positions at the newspaper -- by using the easy options below. Gifts processed in this system are not tax deductible, but are predominately used to help meet the local financial requirements needed to receive national matching-grant funds.
Subscribe now to get breaking news alerts in your email inbox
Get breaking news delivered to your inbox as it happens.
---