News > Idaho
Idaho's Otter learning tough role of governor
Tue., July 10, 2007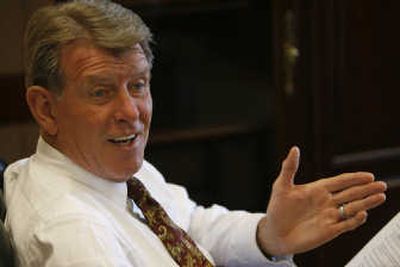 Butch Otter spent many years dreaming about being the governor of this state. But if you ask him whether one of those dreams was to tell Idahoans he needed to raise taxes by about $200 million, he has a simple answer: "Never. Never."
Six months into the job, he knows that's what he's going to have to do. Some Idaho roads are deadly. Others are so congested they threaten local economies. And the costs of fixing them – even with $1 billion being spent on the Connecting Idaho plan – are outpacing revenues.
Otter points to Interstate 84 in the Treasure Valley.
"I think we've got to prepare the environment, and when folks say 'I'm sick and tired of paying taxes,' well, folks, I'm sick and tired of paying taxes. But we've got to look to the need. We've got to look to the economy. We've got to look to the amount of time people are spending on a 13-mile-long parking lot."
In his 35 years in public office, Otter has created an almost unblemished record of small-government libertarianism.
But now that he's the state's chief executive, the philosophies that call for small government and businesslike decisions can be challenged by the realities of being the man in charge of about 19,000 state employees and more than $2.8 billion in spending. Half a year into his term, that transition hasn't always been smooth, and political watchers are wondering whether Otter's philosophy will change government, or the other way around.
"You go from someone who was more of a spokesperson for a point of view than a legislator, and now you're running the show – it's a different set of skills," said John Freemuth, Boise State University political science professor. "Now he's got to govern."
From the start of his term, Otter said he would run government like private industry, making tough decisions.
This summer, Otter decided to cut a federal funding stream to an early education program called Parents as Teachers. He was worried the money was being spent incorrectly and didn't want to have to pay it back. A simple business decision.
The reaction was quick and intense. Hundreds of people benefited from the program and were willing to fight for it. Otter didn't back down on the federal cash but has been meeting with schools Superintendent Tom Luna to decide whether to find money for the program. "I think that was badly handled," said House Minority Leader Wendy Jaquet, D-Ketchum.
But the first taste for the Legislature was the day Otter ordered work stopped on the Statehouse, where two-story additions including hearing rooms and offices for the 105 lawmakers were being built.
Otter was concerned about the cost, but he was more driven by overall philosophy. "I've visited enough state legislatures that are professional legislatures that meet nine, 10, 11 months a year, and it costs the folks a lot of money. Not only in terms of what it costs folks to be there, but when they're there, they feel the need to do something."Otter and fellow Republicans compromised on two one-story additions with large hearing rooms but few offices. Though lawmakers were clearly upset the day of the decision, Otter thinks the hard feelings have passed.
"That water has already flown underneath the bridge," he said.
"Is he thinking and learning from this and trying to do some creative things that need to be done but consistent with his philosophy?" Freemuth asked.
Otter thinks so, even if it comes to a $200 million tax increase."If you're going to use a resource and that resource needs some government service attached to it, then you need to pay for that service," he said.
He doesn't plan to decide how to raise that money on his own, though. He'll be the one, though, who breaks the bad news.
Local journalism is essential.
Give directly to The Spokesman-Review's Northwest Passages community forums series -- which helps to offset the costs of several reporter and editor positions at the newspaper -- by using the easy options below. Gifts processed in this system are not tax deductible, but are predominately used to help meet the local financial requirements needed to receive national matching-grant funds.
Subscribe to the Coronavirus newsletter
Get the day's latest Coronavirus news delivered to your inbox by subscribing to our newsletter.
---
Subscribe and log in to the Spokesman-Review to read and comment on this story