News > Idaho
Homeowners can cut risk
Wed., July 11, 2007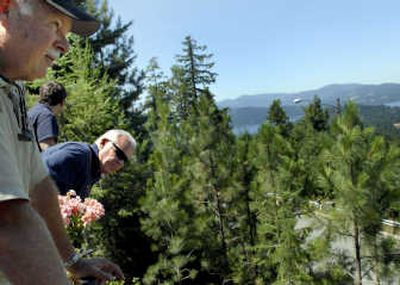 With wildfire practically knocking at our doorstep – think prolonged heat wave, snowpacks melting a month early, bone-dry forests and the prospect of lightning storms this weekend – fire experts say now is the time for homeowners to conduct a serious once-over of their property.
Although firefighters can respond to most wildfires, departments can be overwhelmed when a powerful storm front hits the region, igniting dozens or even hundreds of fires at a time. When that happens, homeowners "are not going to get help from a professional," said Larry Isenberg, project manager of FireSmart, a nonprofit program that has helped reduce the fire risk for 2,250 homes in Kootenai County.
The idea of an overwhelming number of wildfires hitting the region is far from fantasy, Isenberg said. Millions of acres and entire communities along the Montana-Idaho border were burned in a single night in August 1910. On a dry, windy October day in 1991, a powerful storm helped ignite 92 fires across the region, which burned 114 homes in the Spokane area.
"We know it's going to come again," Isenberg said, noting that thousands more homes have since been built in forested areas of the Inland Northwest. "It will be horrific."
During the 1991 firestorm, homes that were not surrounded by thick brush had a good chance of surviving the flames and falling embers. Of the homes surrounded by 30 feet or more of what's known as "defensible space," 3 percent burned during the firestorm, said Bill Wilburn, a firefighting consultant and former director of FireSafe Spokane. Homes that weren't prepared were at least 10 times more likely to have burned, he said.
"People just don't seem to get it," Wilburn said. "There's still this mentality that somebody else is supposed to take care of the home you built back in the woods."
Wildfire prevention experts offered the following last-minute tips:
""Lean, clean and green," is the phrase used by firefighters to describe the ideal yard surrounding homes in fire-prone areas. Remove brush, pine needles and low branches from trees in a 30-foot-wide ring around your home. Some experts say the ring should be at least 100 feet wide, especially if the home is on a slope. Keep grass trimmed and watered.
"Be sure house numbers are clearly visible from the street. Trim brush and tall grass from the sides of roads.
"Remove leaf debris from roofs, gutters and under decks.
"Enclose the undersides of decks, eaves and fascia to guard against flying embers.
"Store firewood and burnable materials, such as wooden pallets, away from structures. "Think in terms of what will burn in a bonfire," Wilburn said.
"Ensure that hoses and nozzles are in good working condition.
"Avoid planting fire-prone shrubs, including junipers, around homes. Trees such as aspen and cottonwood are good choices for shading out brush while also being relatively fire resistant.
Local journalism is essential.
Give directly to The Spokesman-Review's Northwest Passages community forums series -- which helps to offset the costs of several reporter and editor positions at the newspaper -- by using the easy options below. Gifts processed in this system are not tax deductible, but are predominately used to help meet the local financial requirements needed to receive national matching-grant funds.
Subscribe now to get breaking news alerts in your email inbox
Get breaking news delivered to your inbox as it happens.
---