News > Nation/World
Killer of 11, including fetus, sentenced to die
Wed., July 11, 2007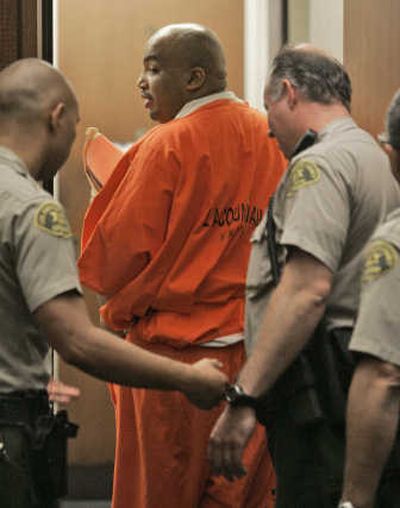 LOS ANGELES – Chester Turner, the most prolific serial killer in the history of Los Angeles, was sentenced Tuesday to die for the murders of 11 people, including the unborn child of one woman.
Los Angeles County Superior Court Judge William Pounders said Turner's guilt was established "beyond all doubt," making him the 665th inmate on California's death row.
"I don't think any jury would arrive at a different conclusion," Pounders told Turner, 40, who repeatedly has proclaimed his innocence.
DNA evidence linked Turner to all his victims, most of whom were prostitutes. His identification cleared another man who had been wrongly convicted of two of his crimes.
Turner's murders show "a level of cruelty rarely seen in murder trials," Pounders said.
Turner was found guilty April 30 of murdering 10 women, including one who was pregnant, in South Los Angeles and downtown's skid row from 1987 to 1998. He strangled eight with his bare hands. Four killings took place within six blocks of Turner's home.
Pounders denied motions for a new trial and agreed that the jury's finding that Turner deserved death "is proper according to the law." In the past 30 years, the state has executed 13 death-row inmates; 12 have committed suicide.
Turner "not only took pleasure in torturing and killing the women, but he apparently got pleasure from seeing the pain he caused their families to endure when he went to dinners held in the homes of the victims' families after the funerals," according to the report filed by Leon Alberts of the state probation department.
The victims, in the order they died, were Diane Johnson, 21; Annette Ernest, 26; Anita Fishman, 31; Regina Washington, 27, and her fetus; Andrea Tripplett, 29; Desarae Jones, 29; Natalie Price, 31; Mildred Beasley, 45; Paula Vance, 38; and Brenda Bries, 37.
Turner's lawyer, John Tyre, said they had not discussed the possibility of his execution.
"No," Tyre said. "We don't talk about that."
Local journalism is essential.
Give directly to The Spokesman-Review's Northwest Passages community forums series -- which helps to offset the costs of several reporter and editor positions at the newspaper -- by using the easy options below. Gifts processed in this system are not tax deductible, but are predominately used to help meet the local financial requirements needed to receive national matching-grant funds.
Subscribe now to get breaking news alerts in your email inbox
Get breaking news delivered to your inbox as it happens.
---