News > Nation/World
'Kudzu' creator killed in car crash
Wed., July 11, 2007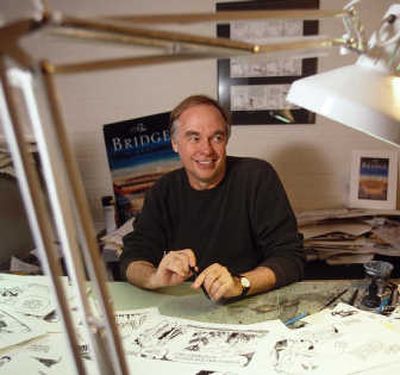 Doug Marlette, a Pulitzer Prize-winning editorial cartoonist who also created the "Kudzu" comic strip, and set it in the South he knew so well, died Tuesday in a single-car crash near Holly Springs in northwest Mississippi, authorities said.
Marlette, 57, was a passenger in a car that appeared to have hydroplaned on a rain-slicked four-lane highway before striking a tree, said John Garrison, coroner of Marshall County, Miss.
Marlette died at the scene. The driver was transported to a nearby hospital, Garrison said.
The cartoonist had been in Charlotte, N.C., for the funeral of his father, Elmer Monroe Marlette, who was buried Friday and was on his way to visit friends in Oxford, Miss., when the accident occurred, the Tulsa World, Marlette's employer, reported. Marlette had joined the Oklahoma paper in 2006.
In 1988, Marlette won the Pulitzer Prize for political cartoons he drew for the Charlotte Observer and the Atlanta Constitution, which he had joined in 1987. His chief targets were Jim and Tammy Faye Bakker and their television ministry.
His editorial cartoons and the "Kudzu" comic strip Marlette started more than 25 years ago were widely distributed in the U.S. and abroad.
Marlette also worked for Newsday beginning in 1989 and the Tallahassee Democrat in 2002.
A cartoon he drew for the Florida newspaper depicted a man in Middle Eastern garb driving a Ryder truck with a nuclear warhead and the caption: "What Would Mohammed Drive?" The drawing played off the "What Would Jesus Do?" campaign against gas-guzzling vehicles and the notion that fundamentalist Islamists used their religion to justify murdering Americans.
It elicited more than 20,000 e-mails demanding an apology for "misrepresenting the peace-loving religion of the Prophet Mohammed – or else," Marlette wrote in a piece published in the Columbia Journalism Review in 2003.
Offending others was "a fact that I tend to list in the 'Accomplishments' column of my resume," Marlette wrote.
He added another achievement – published novelist – in 2001.
His loosely autobiographical novel "The Bridge" became a best-seller in the South. It tells the story of a political cartoonist who returns to North Carolina and discovers a family history that includes his grandmother's role in a 1934 textile strike.
In his second novel, "Magic Time" (2006), he sent a beleaguered journalist home to Mississippi to grapple with old wounds from civil rights-era violence.
He also published at least 16 collections of his cartoons and helped create a musical comedy based on his comic strip that was produced in Washington, D.C., in 1998.
Local journalism is essential.
Give directly to The Spokesman-Review's Northwest Passages community forums series -- which helps to offset the costs of several reporter and editor positions at the newspaper -- by using the easy options below. Gifts processed in this system are not tax deductible, but are predominately used to help meet the local financial requirements needed to receive national matching-grant funds.
Subscribe now to get breaking news alerts in your email inbox
Get breaking news delivered to your inbox as it happens.
---