Sports
NBA : Pistons search for winning direction
Wed., July 11, 2007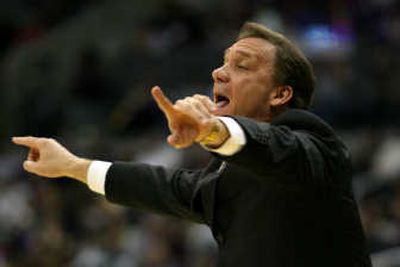 LAS VEGAS – For the first time since the end of last season, Detroit Pistons coach Flip Saunders talked at length Tuesday about the direction of the team, its rookie additions, his relationship with a certain starter and what's to come in 2007-08.
Watching as the summer league players prepared for a scrimmage against Phoenix at the Thomas and Mack Center, Saunders expressed enthusiasm for the things Eastern Washington University draftee Rodney Stuckey and UCLA draftee Arron Afflalo will bring to the lineup, as well as for team president Joe Dumars' mandate for a cultural change among the veterans.
Dumars has said he wants to see more intensity from the players on the floor, and he expects playing time to fluctuate accordingly.
Saunders sounds on board with that plan.
"I think some of our starters have that sense of not feeling threatened," Saunders said. "They just say, 'Well, what's the alternative?' I think they'll feel more threatened in playing time and opportunities. I think competition always brings out the best. I think that it ends up being a mind-set. There's a culture that's been here for five, six years. You change that culture with the young players you bring in."
Saunders said he believes the young corps of Afflalo, Stuckey and third-year forwards Jason Maxiell and Amir Johnson – a restricted free agent who could re-sign with the team as early as today – will be ready to put the pressure on the starters.
"When your other guys are playing every day at a high level, a very competitive level," Saunders said, "they don't have a choice as far as to learn to bring it."
Saunders sounds especially impressed with Stuckey, raving about his strength, court vision and ability to create his own shot.
"He's got a rare combination," Saunders said, "in that he's got size, strength, speed, and shoots the ball pretty good, better then you'd think. Very good free-throw shooter and can finish around the basket. And I like the way he doesn't give up on plays."
Saunders has also enjoyed Afflalo's game. He picked UCLA to win the NCAA tournament last March in large part because he liked what he saw from Afflalo, who will, as Saunders put it, "run through a wall for you."
Saunders had kept a low profile before showing up in Vegas. He didn't speak to reporters at the team's locker cleanout, nor at the news conference introducing the rookies.
At his end-of-season address, Dumars gave the coach a vote of confidence. He said he was happy sticking with Saunders for a third season, yet held him accountable for his part in the team's finish, losing to Cleveland in the Eastern Conference finals.
Saunders said the vote of confidence was never really needed and that he understood the postseason calls for his head.
"I think it's like anything, it's what our expectations are," Saunders said. "Our expectations were to win the thing, and anything besides that, you're disappointed. When you don't reach that, whether it's talk of what's going to happen with Chauncey, what's going to happen with Rasheed, what's going to happen with the coach, everything, I think that's human nature. I never thought there was an issue."
He did, however, admit that he has some issues to iron out with Rasheed Wallace. Saunders said the two are on good terms – he recently spoke at Wallace's basketball camp – but that their relationship could be better.
Local journalism is essential.
Give directly to The Spokesman-Review's Northwest Passages community forums series -- which helps to offset the costs of several reporter and editor positions at the newspaper -- by using the easy options below. Gifts processed in this system are not tax deductible, but are predominately used to help meet the local financial requirements needed to receive national matching-grant funds.
Subscribe to the sports newsletter
Get the day's top sports headlines and breaking news delivered to your inbox by subscribing here.
---