News > Nation/World
Small aircraft crashes into homes, killing five
Wed., July 11, 2007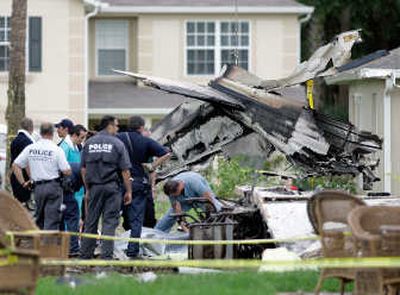 SANFORD, Fla. – A small plane carrying the husband of a NASCAR executive crashed into a neighborhood Tuesday and engulfed two houses in flames, killing both people aboard the aircraft and three others on the ground.
The pilot had reported smoke in the cockpit and was trying to make an emergency landing when the twin-engine plane went down in suburban Orlando, officials said.
NASCAR confirmed that 54-year-old Dr. Bruce Kennedy, a Daytona Beach plastic surgeon and husband of International Speedway Corp. President Lesa France Kennedy, and NASCAR Aviation pilot Michael Klemm, 56, were among the dead.
It was not clear who was flying the plane. NASCAR said it was Kennedy, but investigators said earlier Tuesday it was Klemm.
Janise Joseph-Woodard, 24, and her 6-month-old son, Joseph Woodard, were killed when the house they were in was hit by the plane, police said.
Also killed was 4-year-old Gabriela Dechat, who was in a second home. Her parents, Milagros Dechat, 33, and Peter Dechat, 36, were seriously injured and transported to Orlando Regional Medical Center, police said.
A 10-year-old boy also in that home was transported to Cincinnati Burn Center with burns over 80 percent to 90 percent of his body, authorities said. The boy's name has not been released.
Eric Domnitz, who lives just down the street from the crash site, hurried to the scene with a fire extinguisher and said he saw some of the victims.
"It's in my head. The woman was just melting. It looked like her skin was just melting off," he said. "The guy, he was melting. He looked like wax."
Matt Minnetto, an investigator with the Sanford Fire Department, said the plane itself was scattered in several pieces. The crash spilled aviation fuel, contributing to the fire's spread.
A firefighter who responded to the blaze was hurt trying to reach the victims.
The twin-engine Cessna 310 had been traveling from Daytona Beach to Lakeland when the pilot reported smoke in the cockpit shortly before the crash, said Kathleen Bergen with the Federal Aviation Administration.
The pilot was trying to land at the Orlando Sanford International Airport when the plane went down about a mile or two north of the airport, Bergen said.
Local journalism is essential.
Give directly to The Spokesman-Review's Northwest Passages community forums series -- which helps to offset the costs of several reporter and editor positions at the newspaper -- by using the easy options below. Gifts processed in this system are not tax deductible, but are predominately used to help meet the local financial requirements needed to receive national matching-grant funds.
Subscribe now to get breaking news alerts in your email inbox
Get breaking news delivered to your inbox as it happens.
---