Sports
Masters champ misses cut
Sat., July 14, 2007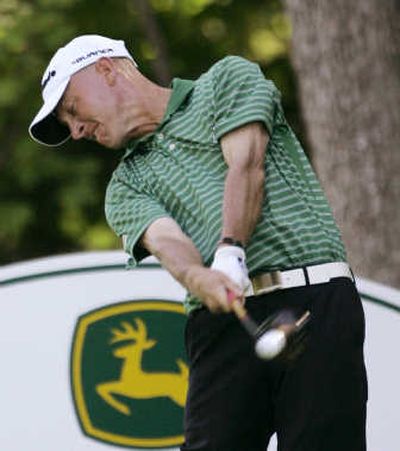 Zach Johnson watched the ball sail over the 14th green and into the woods, then flipped his club in disgust.
The swing that carried him to the Masters championship was nowhere to be found at the John Deere Classic in Silvis, Ill. Instead of jumping into contention on Friday, he missed the cut.
Johnson shot an even-par 71 for a 36-hole total of 141, 11 behind leader Nathan Green and one off the cut, leaving the event without its main attraction.
"I don't have the feel," Johnson said. "That's frustrating. My fundamentals are fine. I've just got to get the feel down."
Green had it.
He grabbed the lead with a second-round 63 that had him one stroke in front of Jason Dufner (66) and Carl Pettersson (64).
First-round leader Neal Lancaster (68) was two strokes back.
With many of the top golfers overseas preparing for next week's British Open, the Deere Classic attracts unknowns and faded stars. One exception was Johnson, a two-time winner this year and the man with the green jacket.
LPGA
Se Ri Pak was solid, but hardly spectacular for a change at the Jamie Farr Owens Corning Classic in Sylvania, Ohio.
Still, her 3-under 68 was good enough to give her a five-stroke lead after two rounds. The four-time tournament winner is at 11-under 131.
"I don't have any complaints," Pak said. "I'm not trying to go really low."
Another South Korean with the same last name, Jin Young Pak, shot a 2 under to put her at 136, five strokes behind.
Carri Wood (69) and Meg Mallon (65) were tied at 5 under after two rounds.
Wendy Ward (Edwall, Wash.) shot 70 for a total of 141. Tracy Hanson (Rathdrum) missed the cut after shooting 73 for a total of 148.
Champions Tour
Craig Stadler shot a 3-under 69 to tie Scott Hoch and qualifier Rod Spittle for the first-round lead at the inaugural Dick's Sporting Goods Open.
Only 20 players broke par, but 17 of them were within two shots of the lead.
Scottish Open
Gregory Havret and Jose Manuel Lara shared a one-stroke lead over Phil Mickelson, while Colin Montgomerie missed the cut at the Scottish Open in Luss, Scottland.
Havret birdied five holes on the back nine for a 64. Lara had an eagle and two birdies on his last six holes for a 65. They finished at 10-under 132.
U.S. Publinx
Colt Knost reached the final of the 82nd U.S. Amateur Public Links Championship with a 3-and-2 victory over Corey Nagy at Cantigny Golf in Wheaton, Ill.
The 22-year-old Knost will face Cody Paladino in today's 36-hole final. The 18-year-old beat Derek Fathauer of Jensen Beach, Fla. 1-up.
Junior PGA
Alexis Thompson, who became the youngest qualifier to compete in the U.S. Women's Open last month, shot a 6-under 65 in Westfield Center, Ohio, to tie reigning U.S. Women's Amateur champion Kimberly Kim entering the final round of the Junior PGA Championship.
Local journalism is essential.
Give directly to The Spokesman-Review's Northwest Passages community forums series -- which helps to offset the costs of several reporter and editor positions at the newspaper -- by using the easy options below. Gifts processed in this system are not tax deductible, but are predominately used to help meet the local financial requirements needed to receive national matching-grant funds.
Subscribe to the sports newsletter
Get the day's top sports headlines and breaking news delivered to your inbox by subscribing here.
---