News > Spokane
Thunderstorm sparks fires across region
Sat., July 14, 2007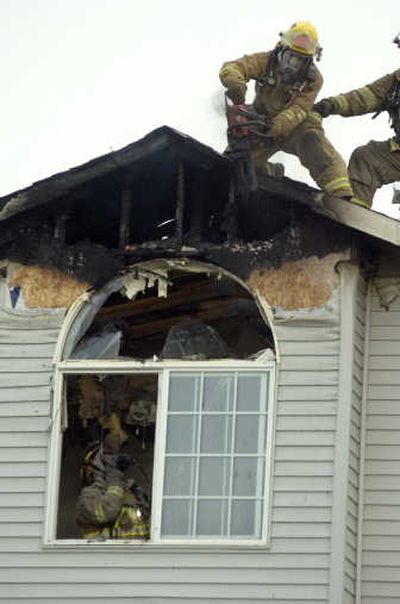 Friday's powerful thunderstorm brought the busiest firefighting day so far this summer.
In Spokane County alone, crews were dispatched to more than 100 fires, said Capt. Erv Williams of the county fire dispatch center. Most of those were small grass fires started by fallen power lines or exploding transformers.
"I mean, we're just swamped when these things happen," Williams said.
Like many Spokane residents, at about 5:30 p.m. Patricio DeLeon was watching the storm on his front porch when lightning struck the house across the street, blowing out the top floor windows of 501 W. Auburn Crest Court in the Eagle Ridge neighborhood.
"It was pretty intense for a split second," DeLeon said.
Twenty-four firefighters responded and knocked down the fire in about 20 minutes, said Deputy Chief Dave Leavenworth of the Spokane Fire Department. A firefighter was injured when debris fell on his head, and he was taken to Deaconess Medical Center after complaining of neck pain. He returned to duty later in the evening.
No one else was injured, and three cats were saved, Leavenworth said.
Lightning continued to strike the surrounding hills as firefighters climbed up a ladder truck and through the house. The storm had roared up from the Palouse toward the Spokane area, said Jonathan Fox, a meteorologist with the National Weather Service.
Fellow meteorologist Matt Fugazzi counted more than 700 cloud-to-ground lightning strikes in Eastern Washington, including about 120 in Spokane County.
Wind hit a maximum gust of 53 mph at Spokane International Airport, Fugazzi said. Sensors at Felts Field registered a maximum 37 mph, and gusts hit 40 mph at Coeur d'Alene Airport.
The core of the storm passed over southern Spokane County, then slipped between Spokane and Coeur d'Alene, following the state line and leaving a trail of power outages and fires, Fugazzi said.
Spokane saw a high of 101 degrees before the storm rolled in, and Coeur d'Alene reached 102.
Hot weather dried out the area in the past several weeks, and arid land and forecast high winds prompted the National Weather Service to issue a red-flag warning for much of the Inland Northwest.
"When all of those things are added with the red-flag warning, it's a recipe for disaster," said Assistant Chief Brian Schaeffer of the Spokane Fire Department.
In the storm's wake, the state Department of Natural Resources reported about 30 wildfires in rural northeast Washington, spokesman Steve Harris said.
The Coeur d'Alene Interagency Dispatch Center, which serves all of North Idaho, sent state units to six fires by 8 p.m. Four acres burned at the Coeur d'Alene River drainage, and several fires, mostly caused by downed power lines, burned in rural areas, said assistant center manager Gary Weber.
Dispatchers in Spokane and Coeur d'Alene said they didn't receive too many reports of wind damage or fallen trees. Power poles were another issue.
Avista Utilities reported a peak of about 9,500 customers without power after the storm, mostly in North Spokane and Deer Park. Outlying areas had power generally restored by 10:30 p.m., but about 200 customers were still in the dark.
At one point, 1,000 were without power in the Rosalia-Kendrick area, 200 in Davenport, 600 in Colville and 150 in Coeur d'Alene, Avista spokeswoman Laurine Jue said.
About 2,200 customers in northeast Spokane lost power when an Inland Power and Light substation went down near Deer Park, spokesman Dan Villalobos said.
But some fires in Eastern Washington didn't require a storm to get roaring. A 25-acre blaze ripped through wheat fields near Plaza, Wash., starting at about noon. Crews fought the wildfire through the storm and were still working long after the rain passed, Harris said.
About 60 firefighters from five agencies battled a 500-acre fire east of Grand Coulee, which burned three outbuildings, a summer home and a pickup, said Capt. Duane Frye of the Grand Coulee Police Department.
Though the central and southeast Washington red-flag warnings expired Friday night, the alert for the northeast and North Idaho – including Spokane and Coeur d'Alene – will stay in effect until 7 p.m. today, as forecasters expect more thunderstorms this afternoon, Fugazzi said.
Local journalism is essential.
Give directly to The Spokesman-Review's Northwest Passages community forums series -- which helps to offset the costs of several reporter and editor positions at the newspaper -- by using the easy options below. Gifts processed in this system are not tax deductible, but are predominately used to help meet the local financial requirements needed to receive national matching-grant funds.
Subscribe to the Coronavirus newsletter
Get the day's latest Coronavirus news delivered to your inbox by subscribing to our newsletter.
---
Subscribe and log in to the Spokesman-Review to read and comment on this story