Sports
Phillies suffer 10,000th loss
Mon., July 16, 2007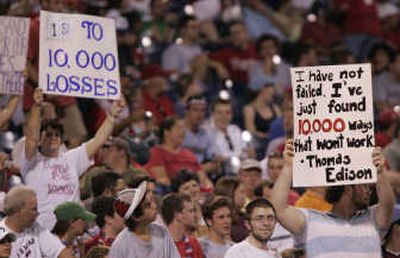 It was the kind of game Phillies fans had seen thousands of times before.
Now, make it 10,000 times.
Bad starting pitching, brutal relief and hardly any hitting. Oh, and lots of booing.
Loss No. 10,000 came Sunday night in Philadelphia when Albert Pujols hit two of the St. Louis Cardinals' six home runs in a 10-2 rout of the Phillies.
By the ninth inning, with the outcome inevitable, the boos turned to cheers. Fans in the sellout crowd of 44,872 thumbed their noses at the dubious mark, standing and applauding. One held up a sign that read: "10,000 N Proud" as N.L. MVP Ryan Howard struck out to end the game.
"I don't know too much about 10,000 losses," Phillies manager Charlie Manuel said. "I try and concentrate on the wins."
From Connie Mack Stadium to the Vet and Citizens Bank Park, and at ballparks all over, the Phillies have cemented their place as the losingest team in professional sports. The franchise, born in 1883 as the Philadelphia Quakers and later called the Blue Jays in the mid-1940s, fell to 8,810-10,000.
Next on the losing list: the Braves, with 9,681 defeats. It took them stints in three cities (Boston, Milwaukee and Atlanta) to reach that total. Not even those lovable losers, the Chicago Cubs, come close at 9,425.
And for those counting, it was the 58th time the Phillies have lost by that exact 10-2 score, the Elias Sports Bureau said.
The Phillies avoided the 10,000 milestone for three games, but the Cardinals – the team that caught them 43 years ago for the N.L. pennant in one of the biggest collapses in baseball history – beat Philadelphia one more time.
Earlier, a banner hung from the upper deck that read "10,000 is not in the Cards." Turns out, it was on this night.
So the franchise that won only one World Series championship (1980) in 125 years, has 14 seasons of 100-plus losses, and once lost 23 straight games, now has the ugliest number of them all.
After combining for 23 runs and 37 hits in the first two games of the series, the Phillies were held in check by Adam Wainwright (8-7). He threw seven shutout innings against the highest-scoring team in the National League.
Local journalism is essential.
Give directly to The Spokesman-Review's Northwest Passages community forums series -- which helps to offset the costs of several reporter and editor positions at the newspaper -- by using the easy options below. Gifts processed in this system are not tax deductible, but are predominately used to help meet the local financial requirements needed to receive national matching-grant funds.
Subscribe to the sports newsletter
Get the day's top sports headlines and breaking news delivered to your inbox by subscribing here.
---