News > Home
Better soil, watering can green up lawn
Tue., July 17, 2007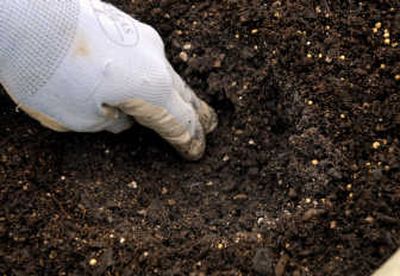 I've been meaning to e-mail you, and this morning in reading your article regarding grass maintenance, I decided to sit down immediately to ask you this question.
We live in Garden Ridge, a small development in Liberty Lake just east of City Hall. Our home was built five years ago and is part of the second phase in the development. We have had difficulty in keeping two areas of our lawn green, even though our sprinklers do a very good job covering the area. In talking with our neighbor, who lives in one of the homes from the first phase of development, our home site was a pile of sand and dirt until it was graded for the foundation. My husband feels that the areas we cannot keep green are due to poor sandy soil.
My question is: Can we just bring good top soil in and lay a few inches over the current bad grass areas and reseed, or should we remove the poor soil areas, bring in top soil and reseed? Is there any other remedy you can recommend?
Joy Reis, Liberty Lake
When I first came to Spokane in the late 1970s, all the land where the city of Liberty Lake is now was bluegrass seed fields – the same grass your lawn is probably planted with. So the general soil around Liberty Lake should be decent for a lawn even with the mix of rock and sand. That said, it could be that there is a high concentration of sand in the dry areas. Another factor might be that when they built your house, those piles of sand and dirt were mixed with construction debris or large rocks that are now close to the surface causing the soil to dry quickly. Pound a long, metal rod into the soil a couple of feet to see if you hit anything hard. Another factor may be that your sprinklers are not working quite right. Set some flat pet food or tuna cans in the dry areas and in a few areas that are getting good water and then let your system run. If the cans in the dry areas have less water than the good areas, your sprinklers need adjusting. Make sure you are watering long enough to get water deep in the soil. In hot weather bluegrass lawns need an inch to an inch and half of water a week and they need it deep in the soil. Running the system 10 to 15 minutes a day every day doesn't get water very deep in the soil. Water longer several times a week instead.
Should you top dress with new soil or dig out the old? I'd go for digging out the old at least a foot or so deep and replacing it. But wait until early September when the weather turns coolers. Keep in mind, if you bring in good dirt with more nutrients than your original soil, the growth of the grass may be uneven.
The Liberty Lake Sewer and Water District has a lot of good information on watering lawns there. Go talk to them for some other ideas about your lawn.
Local journalism is essential.
Give directly to The Spokesman-Review's Northwest Passages community forums series -- which helps to offset the costs of several reporter and editor positions at the newspaper -- by using the easy options below. Gifts processed in this system are not tax deductible, but are predominately used to help meet the local financial requirements needed to receive national matching-grant funds.
Subscribe now to get breaking news alerts in your email inbox
Get breaking news delivered to your inbox as it happens.
---