News > Home
Bringing nature home
Tue., July 17, 2007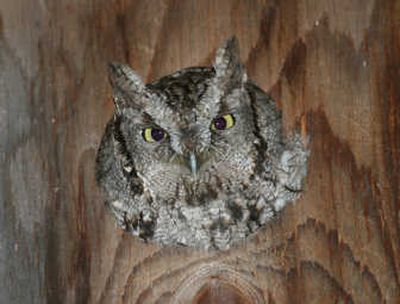 It's not every day that you get to peer into the face of an owl. It is an enlivening experience to see those big beautiful eyes stare back at you.
Ron Dexter knows that feeling well.
Dexter has always carried a camera and in 1970, after purchasing a homestead in the Priest Lake area, became a bird photographer when his wife, Pat, said to him, "Why don't you try to take a photo of every bird on the property?"
These days Dexter uses both digital and film cameras.
Dexter photographs all kinds of birds, and has created a haven for them at his home close to Mount Spokane. The couple moved to the area in 1990 and have completely designed their property with birds in mind. Originally the 44-acre parcel was dairy pasture. Now with 1,000 trees planted and a goal of returning 39 acres to natural forest, it is anything but pasture. For the five acres around their home they specifically incorporated plants to attract birds, seeking out native plants first. To provide the berries birds love, they planted hawthorns, mountain alders, serviceberries, chokecherries, elderberries, and Virginia junipers.
The Dexter home is a true nature sanctuary. With eight ponds (some seasonal), plenty of fish to eat, a variety of safe brush for perching and plenty of nesting areas and boxes, Dexter has confirmed more than 120 nests and more than 145 species of birds have visited.
"Ponds are the big attraction to wildlife," Dexter says. His ponds have attracted Western painted turtles, snakes, moose, deer, as well as herons, kingfishers, ducks, hawks, and countless other birds. The upper pond is stocked with goldfish and all the ponds have cattails – a draw for many species.
He created a stream for the overflow water to go into the lower ponds, and the last pond is a natural sump. Dexter is careful about keeping a balance with nature, so he makes sure that none of the goldfish get into the existing stream.
"I made it easy on myself," he says. "I brought the wildlife to me. If there are birds, or a particular bird you want to photograph, you have to really study them."
Over the past months, Dexter has focused on the Western screech owl. He built 10 nest boxes and he played a recording of calls made by Western screech owls to bring them in. With patience, careful study and commitment, he captured many aspects of the birds' lives – from bonding, to nesting, to feeding their young. They are so comfortable having him around, they even allow him to peek in at the nest and take photos.
Dexter took the time to learn their habits, and be sure the owls got to know him.
"I spent every night with them during late winter so they could get used to me. I would go out at least a half-hour after dark and stay an average of two hours with them," he says. "In the beginning I set up a chair and just watched—no photographs."
Later he set up his tripod and added a little light from a small flashlight.
"I had to see them coming and try to snap the picture," he says. "It's not easy. You'll definitely miss some shots."
Local journalism is essential.
Give directly to The Spokesman-Review's Northwest Passages community forums series -- which helps to offset the costs of several reporter and editor positions at the newspaper -- by using the easy options below. Gifts processed in this system are not tax deductible, but are predominately used to help meet the local financial requirements needed to receive national matching-grant funds.
Subscribe now to get breaking news alerts in your email inbox
Get breaking news delivered to your inbox as it happens.
---