News > Business
Caution: Spoilers on the way
Tue., July 17, 2007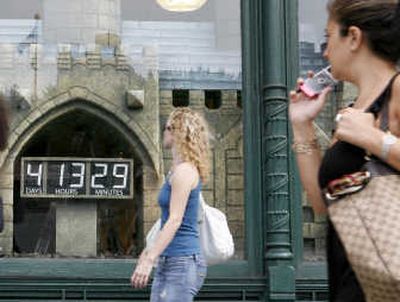 Whether on the Web, a TV screen or the corner newsstand, it's a headline that could ruin a book lover's day: "Harry Dies!" Or, for that matter, "Harry Lives!"
When the final installment of J.K. Rowling's Harry Potter saga is published Saturday, loyal fans who don't like their surprises spoiled may have only two choices: speed reading or quarantine.
"This is the first thing everybody is going to want to know, and I really hope that it won't be screamed from a tabloid," says Melissa Anelli, owner of the Leaky Cauldron (the-leaky-cauldron.org), a popular Harry Potter Web site. "If you care, you'll buy the book. If you haven't finished reading it by the time you see that headline, you'll be really mad."
There is nothing new about trying to dodge information in the age of time-shifting and the Internet: Many sports fans with TiVos observe "news blackouts" so they won't find out the score of a game until they watch it later. They avoid TV, radio and newspapers. They open conversations with "Don't tell me!" Such techniques can be effective, at least for a short time.
This is different. "Harry Potter and the Deathly Hallows" is a book – a 784-page book. Twelve million copies have been printed, and they will go on sale at exactly 12:01 a.m. on Saturday. That means U.K. readers will get a jump of eight hours on those in the U.S. West Coast. Spoilers could theoretically post the ending before readers in the U.S. have even queued up at their local bookstores.
Scholastic Corp., which holds the U.S. rights, says it isn't worried.
"Based on the people that I've talked to, fans won't look," says Kyle Good, a spokeswoman. "People want to read it on their own."
Some media outlets will observe discretion. The Leaky Cauldron Web site plans to host a live discussion page, but it will be clearly marked. "People are going to want to discuss whether they liked it, whether it has a good ending, if they are satisfied, but there will be warnings galore so that we don't ruin it for anyone," says Anelli.
The major networks have traditionally been loath to give away the endings of books or movies on morning talk shows.
"We would never want to ruin the ending of a book that we know millions of Americans are looking to read," says Jeffrey Schneider, a senior vice president of ABC News. "That said, if the ending of the book becomes a major story, then we will obviously cover that. But we won't set out to intentionally ruin the ending."
Paul Colford, a spokesman for the Associated Press, says, "The AP will not be a spoiler." He notes that even though an AP reviewer disclosed that a major character died in "Harry Potter and the Half-Blood Prince," the news service didn't identify the character as Hogwarts Headmaster Albus Dumbledore until this month. He says that if a news organization or Web site discloses the ending of "Deathly Hallows" and it is widely dispersed, the AP will report on the development. But he says the story would be written in such a way that the secret wouldn't be revealed.
Whether Harry lives or dies isn't the only issue that will need tying up in the seventh book. A close second is whether Severus Snape, who killed Dumbledore in the last book two years ago, is really bad. And because Rowling has shown a willingness to kill off popular characters, what awaits Harry's closest friends, Hermione and Ron? Or, of course, the evil Lord Voldemort?
From a business point of view, retailers don't expect premature disclosure of the ending to hurt sales. They believe fans will want to read the novel whether they know the ending or not.
"It's not just about Harry," says Ann Binkley, a spokeswoman for Borders Group Inc., based in the U.S. "I want to know – is Snape a friend or foe? It's about getting to the end, not the ending itself."
Local journalism is essential.
Give directly to The Spokesman-Review's Northwest Passages community forums series -- which helps to offset the costs of several reporter and editor positions at the newspaper -- by using the easy options below. Gifts processed in this system are not tax deductible, but are predominately used to help meet the local financial requirements needed to receive national matching-grant funds.
Subscribe now to get breaking news alerts in your email inbox
Get breaking news delivered to your inbox as it happens.
---