News > Spokane
CHAS shifts inpatient care
Tue., July 17, 2007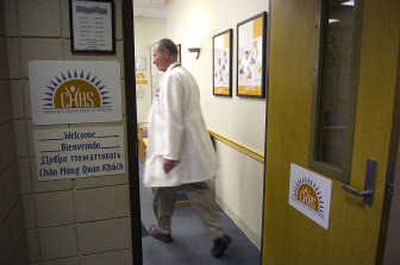 Spokane's largest low-income health clinic will stop admitting adult patients to Sacred Heart Medical Center after Aug. 1 under a new arrangement that shifts most inpatient care to the hospital down the block.
Deaconess Medical Center has pledged to cover for the Community Health Association of Spokane, freeing its doctors from emergency room rotations and some hospital duties that have threatened their ability to staff the clinics that serve some 36,000 clients a year.
Letters went out last week to about 20,000 CHAS clients, explaining that if they need hospital care, they won't be sent to Sacred Heart.
"CHAS was birthed to take care of outpatients," said Dr. David Bare, the agency's medical director. "We began seeing our inpatients, but it's been pulling us away from our primary responsibility, which is outpatient primary care."
Sacred Heart officials said they were surprised by the move, which will affect an estimated 10 to 15 patients a day. Dr. Jeff Collins, chief medical officer at Sacred Heart, said he was informed by letter last week.
"I don't really know the nature of how we didn't meet their needs," Collins said, adding that hospital officials had been trying to meet in person with Peg Hopkins, CHAS executive director. "Personally, that's not how I would communicate to a partner."
Hopkins, however, said she had been considering the move since January and had discussed the situation with Skip Davis, Sacred Heart's chief executive officer.
At issue, she said, was a system that required CHAS doctors and midwives, like other primary care providers, to participate in an increasingly demanding emergency department rotation while trying to keep up with work in the outpatient clinics.
A few years ago, a CHAS doctor might have been on call twice a month, Bare said. Now, a doctor might be on call every four or five nights. At least one CHAS doctor is on call at either Sacred Heart or Deaconess every night of the week, which means they're not available to work in a clinic the next day.
Under the new arrangement, seven CHAS doctors and two midwives will no longer admit patients to Sacred Heart. About 30 physicians' assistants and other staffers will no longer refer clients to that hospital after Aug. 1, Hopkins said.
Instead, they'll be sent to Deaconess, where a crew of 10 hospitalists – doctors who work only in hospitals – will absorb the load. Sacred Heart declined to have its hospitalists care for CHAS patients, Bare said.
CHAS staff also will continue to send patients to Holy Family Hospital and to Valley Hospital and Medical Center.
Sacred Heart hospitalists are overburdened themselves, said Collins. But Deaconess officials said the hospitalists will have no trouble adding the CHAS patients to their load.
"Deaconess and Empire Health have made a strong commitment to inpatient care," said Dr. Monika Gottlieb, medical director for the hospital medicine program.
The new arrangement carries no financial requirements. Empire Health Services is considering selling its two hospitals to Community Health Systems Inc. of Tennessee, but no one could say for sure how that might affect CHAS.
The CHAS decision reflects a larger crisis in primary care, said Dr. Brian Seppi, president of the Spokane County Medical Society. In a region that has lost 50 primary care doctors in five years, and where some 30 private practice posts are open, finding doctors willing to take on inpatient and outpatient care is difficult. "Primary care resources are being stretched," Seppi said.
Family doctors with privileges at both hospitals, and those who want to treat obstetric patients, must participate in a rotation of caring for so-called "no-docs," clients who come to the hospital with no doctors of their own. In busy emergency rooms, that's about 20 percent of the clients, according to national estimates.
The CHAS decision means that the 30 doctors who remain in Sacred Heart's pool will have to staff the "no doc" rotation more often, Seppi said.
That could be a hardship at Sacred Heart, where emergency department visits increased by 37 percent between 2001 and 2005, up from 42,627 to 58,065, according to the state Department of Health. At Deaconess, however, emergency room visits dropped by 4 percent during the same period, from 34,310 to 32,895.
For CHAS, the decision to limit admission to one of the two largest area hospitals was based primarily on access, Hopkins and Bare agreed.
"It's not a quality issue at all," Bare said.
Local journalism is essential.
Give directly to The Spokesman-Review's Northwest Passages community forums series -- which helps to offset the costs of several reporter and editor positions at the newspaper -- by using the easy options below. Gifts processed in this system are not tax deductible, but are predominately used to help meet the local financial requirements needed to receive national matching-grant funds.
Subscribe now to get breaking news alerts in your email inbox
Get breaking news delivered to your inbox as it happens.
---