News > Spokane
Rallying the community to shine light on child abuse
Tue., July 17, 2007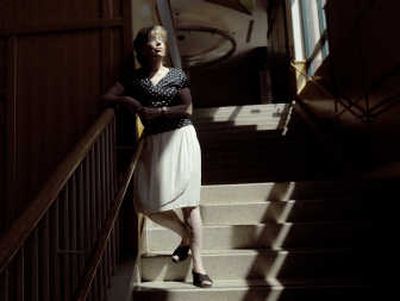 When Debra Park asked to focus her church's fledgling peace group around child abuse, she wasn't minimizing the war in Iraq or downplaying anti-immigration riots, she was emphasizing one of Spokane's most pertinent issues.
A member of the Court Appointed Special Advocates nonprofit group, Park was struggling to localize the Cathedral of St. John the Evangelist's nascent Episcopal Peace Fellowship chapter when faded newsprint and her background sparked an idea. Now, three months after The Spokesman-Review's "Our Kids: Our Business" project attempted to throw child abuse awareness into Spokane's mainstream vocabulary, Park is one of several community members and organizations trying to keep the discussion going.
"We really were sparked by the campaign," said Park, 56, who spearheaded the Episcopal Peace Fellowship's decision to focus on child abuse issues. "We are trying to compel people on an individual level to realize that the safety of children is everybody's business."
Since the group formed in March, it has held an initial meeting to spur dialogue about the issue.
At its second meeting Wednesday, a survivor of childhood sexual abuse will discuss her experience and methods of slow healing alongside her therapist.
The articles might have influenced previously oblivious residents, but the increased open discussion has also affected victims of child abuse, such as the woman speaking tomorrow night.
A Spokane resident in her mid-40s, she will talk publicly for the first time about her repeated rapes and sexual abuse by her stepfather. The abuse started when she was 3 and spanned 15 years, leaving her with entrenched guilt, difficulty enjoying intimacy and an inability to relax in the presence of others.
"The reason I am speaking and (the) articles are so important is because most people don't know they can heal," said the survivor, who preferred to remain anonymous for this article because of the sensitivity of the topic.
Public dialogue about child abuse surfaced in the early 1990s with TV programs like "The Oprah Winfrey Show" making it a national cause, she said. In Spokane, however, the issue has often remained a begrudging admission. She recalled having a "girls' night" with seven female friends this spring when half the women in the room admitted they had been abused as children.
"I was shocked. It was a huge 'ah-ha' moment for me," she said. "I think we have to talk about it. People don't understand it scars your soul and takes a lot of counseling and a lot of money to heal."
The public awareness campaign should continue partly for that heightened comprehension, said Mary Ann Murphy, chairwoman of the Washington Council for Prevention of Child Abuse and Neglect and executive director of Partners with Families and Children: Spokane, a program for abused or neglected children.
Murphy, who spoke at the Episcopal Peace Fellowship's initial meeting about child abuse prevention and awareness issues, said the newspaper's articles didn't just nudge the community, they galvanized it.
"I've never seen anything like it," she said. "It was absolutely fantastic. I am involved in a lot of statewide groups, and they are green with envy in Seattle."
Since April, Murphy said 93 adults have trained with the Darkness to Light: Stewards of Children child abuse prevention program, a combined service offered by Partners with Families and Children and Volunteers of America.
Whereas previous programs have waited for children to speak up, newer ones like this home in on the idea of prevention, Murphy said.
And one of the first steps in preventing child abuse is creating an educated atmosphere about it, believes Marianne Harrington, 60, St. John's parish nurse and a member of the church's new group.
"It's been an interest of mine for a long time," said Harrington, who is also a registered nurse in Spokane's District 81 schools. "I felt like the church needed to do something as a group, and even if we can help on a smaller level that is where the change is going to occur."
The Vanessa Behan Crisis Nursery sees that change already, said Kristine Ruggles, the director of volunteer services at the community agency where abused children can find shelter. About 30 volunteers are assisting the organization this summer compared with the usual six who do so during the summer months.
She said the organization had to hold two training sessions this year for the first time because there were so many new volunteers.
Whether volunteer or victim, developing sensitivity about the issue is imperative, said the child abuse survivor who will speak at St. John's tomorrow night.
"We have to start to say as a society, 'No, we will not devalue women and children anymore,' " she said. "We will not allow this to happen, not 18 months and a slap on the wrist," she said about penalties she thinks are too low.
The ability to start speaking about her past has given the woman a greater sense of freedom, even a twinge of contentment.
"I know I am a good mom, and I can be intimate with my husband and it's no longer sex, it's making love," she said. "And I don't have to leave the light on, and I don't cry afterwards."
Local journalism is essential.
Give directly to The Spokesman-Review's Northwest Passages community forums series -- which helps to offset the costs of several reporter and editor positions at the newspaper -- by using the easy options below. Gifts processed in this system are not tax deductible, but are predominately used to help meet the local financial requirements needed to receive national matching-grant funds.
Subscribe now to get breaking news alerts in your email inbox
Get breaking news delivered to your inbox as it happens.
---