Sports
Along for a short ride
Wed., July 18, 2007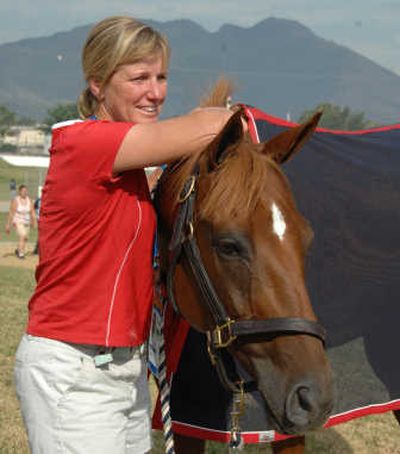 RIO DE JANEIRO, Brazil – If Theodore O'Connor could talk, he might scold the rest of the equestrian world for doubting him.
Instead, O'Connor just goes about beating the big boys of his sport. No gloating, no trash-talking, no self-promotion.
That's how horses do things, anyway.
The 11-year-old O'Connor is that very rare pony who can compete with the thoroughbreds of equestrian. He stands 14.1 hands, and the minimum for a horse is 14.2. In some competitions, "Teddy" is dwarfed by the other animals.
Which, according to Karen O'Connor, his rider, means nothing.
"It is quite an honor to be riding him, he's an exceptional athlete," said O'Connor, who had nothing to do with giving the pony his name – Teddy is named after Jimmy Connors.
Teddy sure looks like he's in the right place when O'Connor mounts him and they more than hold their own in major competitions. When the two O'Connors finished third at the Rolex Kentucky CCI event in April, they earned their spot on the Pan American Games team.
They will ride in the eventing portion this weekend.
Some people in the sport compare what Teddy does to starting a 5-foot guard in the NBA playoffs. But his rider feels the pony has some advantages by being smaller.
"He is three-quarters thoroughbred, one-eighth Arabian and one-eighth Shetland pony," Karen O'Connor explained. "The thoroughbred makes him very agile and sure-footed, yet he has the size and gallop of a full-size horse and is fast as lightning."
At the Rolex competition, the O'Connors moved from 10th place to third in show jumping, which really established Teddy and his rider as a world-class team. It also made the pony's popularity in the sport skyrocket.
"This pony gives people a lot of hope and he has a tremendous fan base at this point," Karen said. "Thousands of people are talking about him back home. I think of all the little girls in the USA who want a pony, and they all want a Teddy now, they can identify with his size. I'm just to be along for the ride."
Local journalism is essential.
Give directly to The Spokesman-Review's Northwest Passages community forums series -- which helps to offset the costs of several reporter and editor positions at the newspaper -- by using the easy options below. Gifts processed in this system are not tax deductible, but are predominately used to help meet the local financial requirements needed to receive national matching-grant funds.
Subscribe to the sports newsletter
Get the day's top sports headlines and breaking news delivered to your inbox by subscribing here.
---