Marketing > Advertorial
Beckett busts loose
Wed., July 18, 2007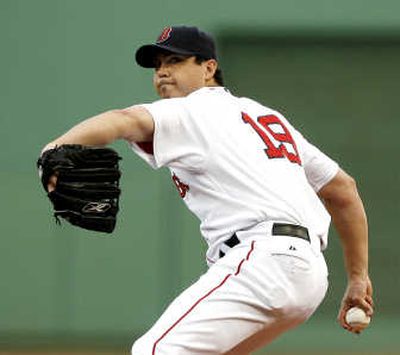 It seems like yesterday when Josh Beckett won the final World Series game against the New York Yankees on only three days rest, giving the Marlins a 4-2 win of the series. Teamed with battery mate Ivan Rodriguez, Beckett pinned a clown suit on the Yankees' vaunted offense, turning in 19 strikeouts in 16 innings pitched, walking off the series MVP after his 5-hit shutout masterpiece in game 6.
His future, one would have surmised, was secure. He was only 24 years old, possessed a 98-mph heater, a consistent curveball and change. Save for his recurring blister problem, there seemed to be nothing but good times ahead for Beckett.
Beckett didn't exactly dominate the next year, posting a 9-9 record with an inflated — at least compared to his previous year's ERA — earned run average of 3.79.
Then came the 2005 "market correction" in Florida, when the team's brass decided to break up the championship team and get what they could for their champions in a bid to lower their payroll and possibly move the team to another market. Beckett had just turned in a decent 15-8 season with a 3.38 ERA and 166 strikeouts in 29 games, and capitalizing on his worth, was dealt to the Boston Red Sox.
For all intents and purposes, Beckett was a bust.
Shelled for 36 bombs in the bandbox stadium of the American League, Beckett's ERA swelled to 5.04. He did turn in career best numbers in wins (16) and broke the 200-pitch barrier for the first time in his career, but the Red Sox failed to make the playoffs and the trade for Beckett looked like it could be a very bad one indeed. The two prospects the Sox let go for Beckett — Hanley Ramirez and Anibel Sanchez — quickly developed into studs. Ramirez won the NL Rookie of the Year award after batting .292 with 17 home runs and 51 stolen bases (he's hitting .320 at the time of this writing and seems to only be getting better) and Sanchez posted better numbers than Beckett ever did over a single season in 2006, going 10-3 with a no-hitter and an ERA of 2.83.
But Beckett, so cocky he once stenciled "phenom" on his varsity baseball jacket, made the adjustments, because in 2007, Beckett has been lights out.
Despite missing two starts for his recurring blister problem (a problem many young power pitchers have but usually grow the calluses for), Beckett was the first in the majors to win 11 games and had only lost one start in 12 decisions. He'd only surrendered five homers up to that point, and with the Sox lineup swinging along, it's not a bad bet you'll be seeing Beckett on the mound when it matters — the postseason — again soon.
Local journalism is essential.
Give directly to The Spokesman-Review's Northwest Passages community forums series -- which helps to offset the costs of several reporter and editor positions at the newspaper -- by using the easy options below. Gifts processed in this system are not tax deductible, but are predominately used to help meet the local financial requirements needed to receive national matching-grant funds.
Subscribe now to get breaking news alerts in your email inbox
Get breaking news delivered to your inbox as it happens.
---