News > Nation/World
Drug policy officials aided political events
Wed., July 18, 2007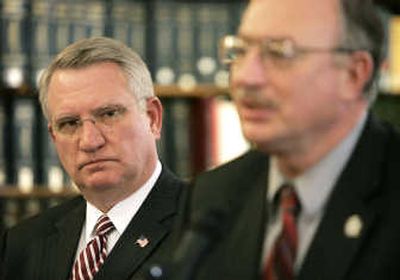 WASHINGTON – White House officials arranged for top officials at the Office of National Drug Control Policy to help as many as 18 vulnerable Republican congressmen by making appearances and sometimes announcing new federal grants in the lawmakers' districts in the months leading up to the November 2006 elections, a Democratic lawmaker said Tuesday.
Rep. Henry Waxman, D-Calif., chairman of the House Oversight and Government Reform Committee, said documents obtained by his panel suggest that the appearances by the drug control officials were part of a larger White House effort to politicize the efforts of federal agencies that "may be more widespread than previously known."
Waxman cited a memo written by former White House political director Sara Taylor showing that drug control office director John Walters and his deputies traveled at taxpayer expense to some 20 events with vulnerable GOP members of Congress in the three months leading up to the elections.
In a letter to Taylor, Waxman also pointed to an e-mail by an official in the drug policy office describing President Bush's top political adviser Karl Rove as being pleased that the office, along with the Commerce, Transportation and Agriculture departments, went "above and beyond" the call of duty in arranging appearances by Cabinet members at campaign events.
The drug control office has had a history of being nonpartisan, and a 1994 law bans the agency's officials from engaging in political activities even on their own time.
Waxman's investigation is part of a broad effort by Congress to look into White House political involvement in federal agencies. So far, Democratic lawmakers have found evidence that White House officials were involved with the firings of nine U.S. attorneys and that Rove deputies made presentations to officials at the General Services Administration and other agencies about Democrats targeted for defeat by the GOP in 2008.
The new disclosure comes after former Surgeon General Richard Carmona testified last week that the White House routinely blocked him from speaking out on politically sensitive public health matters such as stem cell research and abstinence-only sex education. Carmona also said he was asked to make appearances to help Republican candidates and discouraged from travel that might help a liberal politician.
In Waxman's letter to Taylor on Tuesday, he asked Taylor to voluntarily appear at a deposition July 24 and possibly testify before his committee the following week.
White House officials flatly denied that Walters or other drug policy officials were directed to make appearances in an effort to prop up GOP candidates. Likewise, Taylor said through her lawyer that she ran the White House political office no differently than her predecessors had under former presidents.
Local journalism is essential.
Give directly to The Spokesman-Review's Northwest Passages community forums series -- which helps to offset the costs of several reporter and editor positions at the newspaper -- by using the easy options below. Gifts processed in this system are not tax deductible, but are predominately used to help meet the local financial requirements needed to receive national matching-grant funds.
Subscribe now to get breaking news alerts in your email inbox
Get breaking news delivered to your inbox as it happens.
---