A&E > Food
Introduce children to fresh flavors of salad bar
Wed., July 18, 2007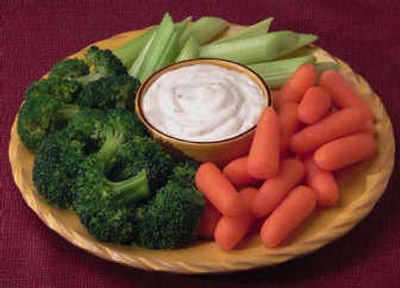 Salad and kids in the same kitchen? Absolutely. A trip to the farmers' market for a selection of fresh peas, carrots, spinach, bell peppers, broccoli, cauliflower, bok choy, green onions, green beans, and even the bizarre-looking but tasty kohlrabi is the perfect family outing on a summer morning. Mom or Dad can drink a latte while the kids chug strawberry lemonade. Take a few moments to talk to the growers, introducing them to your children. Then, head back home to the kitchen for a salad bar lunch or snack.
Children can be surprisingly daring in their vegetable consumption if they've had a hand in choosing the food, connect it with someone interesting, and are offered tasty dips alongside. Parents who eat lots of veggies without making a big deal about it can be quietly persuasive as well. Other parents tend to hate me if I tell them how my son requested some salad at age 3 after watching his father and I eat salad with our dinner regularly for a couple of years. Believe me, we were surprised, too. We had never offered him any, figuring salad was a grown-up thing.
Children go through phases; one day they'll like carrots, the next they don't. Don't be deterred from offering carrots again, and never make pronouncements after an off day like "Oh, you don't like carrots, do you," as that will cement the idea in her impressionable head. Keep all options open, and do your best not to diss any veggies when the children are within earshot.
I've found the best time to feed my son fresh vegetables is around 4 p.m., when dinner is still a few hours away and he is ravenous. An entire day's worth of carrot sticks and broccoli spears served with blue cheese or ranch dip goes down well and takes the vegetable pressure off of dinnertime.
Preparing a salad bar is pretty quick. Just rinse everything well and then use a sharp knife to trim and slice, making sure your children's fingers are out of the way. (But let them sneak a taste off the cutting board when it's safe.) Arrange it all in pretty bowls for maximum effect.
Whatever is left over after the meal can be stored in the fridge in resealable plastic bags for snacktime. Tuck them in a special drawer in the fridge along with string cheese, apples, small containers of yogurt, containers of ranch dip, nuts, and dried fruit, and let your kids know it's their personal snack drawer. They'll love being able to help themselves.
Garden Salad Bar
Possible menu items:
Broccoli and cauliflower florets
Kohlrabi spears
Carrot sticks
Cooked cold green beans
Slices of red or yellow bell pepper
Green onions
Radishes
Cherry or pear tomatoes
Cold sliced cooked beets
Cucumber slices or spears
Zucchini slices
Baby spinach leaves
Mixed baby lettuces
Cottage cheese
Celery sticks with almond or peanut butter
Sliced havarti or gouda cheese
Whole grain crackers or French bread
A small selection of fruit
Two kinds of veggie dip: Try ranch, blue cheese, honey mustard, or poppyseed. Give everyone their own plate to fill and enjoy!
Local journalism is essential.
Give directly to The Spokesman-Review's Northwest Passages community forums series -- which helps to offset the costs of several reporter and editor positions at the newspaper -- by using the easy options below. Gifts processed in this system are not tax deductible, but are predominately used to help meet the local financial requirements needed to receive national matching-grant funds.
Subscribe to the Spokane7 email newsletter
Get the day's top entertainment headlines delivered to your inbox every morning.
---