News > Features
People: Ryder can again breathe easy
Wed., July 18, 2007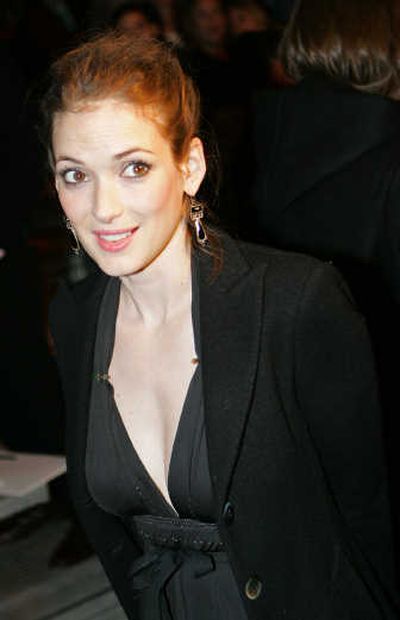 Five-plus years after being caught shoplifting in Beverly Hills, Winona Ryder has become a spokeswoman for her generation.
Ryder, 35, is Vogue's August cover model, representing women of her generation for the magazine's annual age issue, out today.
She recalls her chagrin over a videotape of her prying security sensors off items and shoving them into a bag at Saks Fifth Avenue:
"It was the December after Sept. 11 (2001). … So much attention was being paid to me, when we had just been attacked, and there was all this really important news going on. …
"Two months prior to that, I broke my arm in two places, and the doctor … was giving me a lot of stuff, and I was taking it at first to get through the pain," she explains.
""Have you ever taken painkillers? It isn't a reckless (state), like you're out of your head. It's just confusion."
As for her crime, she adds: "I didn't have this tremendous sense of guilt, because I hadn't hurt anyone. … Had I physically harmed someone or caused harm to a human being, I think it would have been an entirely different experience."
Blood money
Michael Jackson has been ordered to pay more than $256,000 in legal fees to a firm that he used during his 2005 child molestation trial.
His attorney told a judge that going to trial would be costlier and "we want to stop the hemorrhaging."
Ayscough & Marar sued the 48-year-old pop star for failing to pay legal fees for preventing the release of some information to the public and to lawyers in civil cases during the criminal case, in which he was acquitted.
Baby green
Meanwhile, Sting must pay a former chef $51,000 in compensation after she won a sexual-discrimination claim against them.
Jane Martin said she was fired after she became pregnant.
Martin said she had worked for the 55-year-old pop star and his wife for eight years, cooking meals for them and guests including Madonna and Elton John.
Maybe she fired her chef?
So how did Star Jones Reynolds lose so much weight and keep it off?
Reynolds, making the rounds to promote her upcoming Court TV talk show, says she'll reveal all in next month's Glamour magazine.
She's said she lost more than 100 pounds through diet and exercise, while detractors insist she's had gastric bypass surgery.
The skinny on thin Lizzie
Hilary Duff is the latest starlet refuting rumors that she suffers from an eating disorder.
Duff tells Shape magazine that she shrank after she and a friend tried a no-carb diet.
"We started eating only protein and veggies. No bread, no desserts," she says. "I wasn't starving myself, but I wasn't eating a balanced diet and I did get too thin."
The birthday bunch
Director Paul Verhoeven ("Basic Instinct," "Showgirls") is 69. Actor James Brolin is 67. Singer Martha Reeves (Martha and the Vandellas) is 66. Country singer Ricky Skaggs is 53. Actress Elizabeth McGovern is 46. Actor Vin Diesel is 40. Actress Kristen Bell ("Veronica Mars") is 27.
Local journalism is essential.
Give directly to The Spokesman-Review's Northwest Passages community forums series -- which helps to offset the costs of several reporter and editor positions at the newspaper -- by using the easy options below. Gifts processed in this system are not tax deductible, but are predominately used to help meet the local financial requirements needed to receive national matching-grant funds.
Subscribe now to get breaking news alerts in your email inbox
Get breaking news delivered to your inbox as it happens.
---