News > Spokane
EWU sells downtown center for $3.4M
Thu., July 19, 2007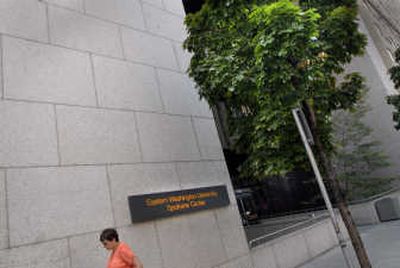 Eastern Washington University has announced the sale of its downtown Spokane center to a Portland-based real estate company for $3.4 million.
The details of the sale were announced Wednesday morning, though the fact of a pending sale – and the shifting of EWU's Spokane programs to the Riverpoint campus – have been known for months.
Real Estate Advisory Services Inc. of Portland purchased the building at 705 W. First Ave., the university said. Company officials couldn't be reached Wednesday to discuss their plans for the building.
The center first opened in 1983 and has housed several programs, including social work, journalism and creative writing. Most of those programs are staying in Spokane, but some, like journalism, are being moved back to Cheney – to the chagrin of some of the longtime faculty.
The Legislature granted EWU permission to keep the proceeds from the sale of the building for design work on a new building at Riverpoint, the joint campus of WSU and EWU, among other enterprises. Until then, EWU programs and classes at Riverpoint will be housed among existing buildings and some makeshift arrangements.
"While this sale marks the end of an era for Eastern at one Spokane location, it also signals the continuation of our ongoing efforts to bolster the university's Riverpoint strategy," EWU President Dr. Rodolfo Arévalo said in a news release. "The construction of a new Riverpoint building will help establish Eastern as a solid community partner, as well as strengthen our commitment to our health science programs."
About 1,000 EWU students will move to Riverpoint when the academic year begins in the fall, joining about 1,500 EWU students who already attend classes there. WSU has roughly 1,500 students at the campus.
Envisioned as an urban university district, with shops and housing as well as college facilities, the Riverpoint campus has seen pronounced growth in recent years. WSU opened a new academic building in 2006 and has begun construction on a nursing school. And collaborative programs in medical and dental training will begin this fall.
It's not yet clear where EWU's building will be located; the school plans to finalize what programs it will offer in Spokane before deciding on the size and location of a new facility.
Local journalism is essential.
Give directly to The Spokesman-Review's Northwest Passages community forums series -- which helps to offset the costs of several reporter and editor positions at the newspaper -- by using the easy options below. Gifts processed in this system are not tax deductible, but are predominately used to help meet the local financial requirements needed to receive national matching-grant funds.
Subscribe now to get breaking news alerts in your email inbox
Get breaking news delivered to your inbox as it happens.
---